Your domain name is your website address. When it's time to publish your page, Ontraport allows you to either host it on any of the Ontraport-owned domains or on your own domain.
If you host your page on an Ontraport-owned domain, Ontraport will apply an SSL (Secure Sockets Layer) Certificate to all your pages for free. SSL certificates greatly strengthen website security and are increasingly required by web browsers. If you use your own domain as described below, Ontraport will provide the SSL certificate for that domain as well.
Using Our Domains
---
Ontraport offers the following free secure domains:
Once you choose a domain, you can create a subdomain, such as mywebsite.pages.ontraport.net.
Using Your Own Domain
---
If you've purchased a domain from a domain registrar (such as GoDaddy, BlueHost, HostGator, etc.) that you would like to host on, Ontraport allows you to use that domain to host your Pages. To use your own domain, follow one of the two methods explained below.
IMPORTANT: We recommend hiring a trusted web-developer or Ontraport Expert to assist you with this process. If you already have a domain with live content, following the steps below will make your existing content inaccessible from that domain. Additionally, note that with either method below, you will not be able to host other content (outside of Ontraport) on the domain.
Method 1, the easy way: Setting Nameservers
This method involves setting your nameservers to:
ns1.ontraport.com 

ns2.ontraport.com 
At GoDaddy, this will look like: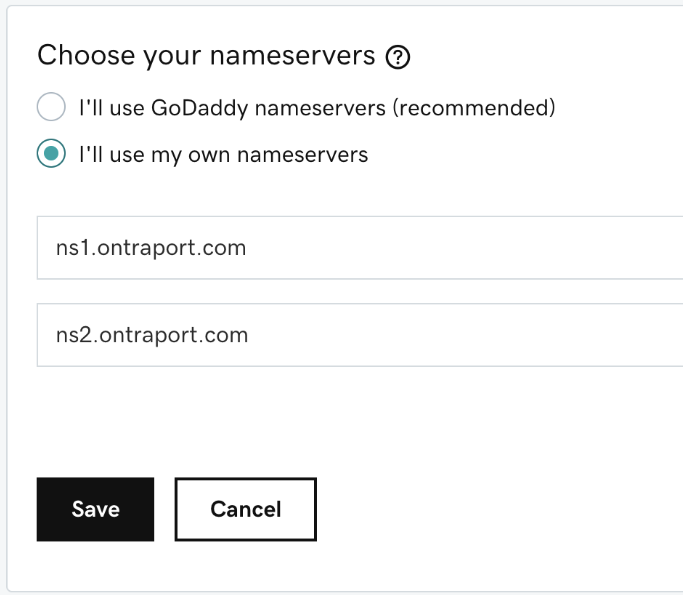 We advise reaching out to the domain registrar for help with this process if necessary.
This method gives Ontraport total control over your domain, and will allow you the most flexibility using the system.
If you use this method and need to add other zone file records (for example, to set up an email account like Gmail) to your domain, please contact our Support team.
Method 2: Using an A Record 
This method involves buying a new domain and leaving the nameservers as is, or using another DNS service. In order to give partial control of the domain to Ontraport for hosting your pages, you'll need to set an A Record the domain, like this:

Type: A
IP/Content: 209.170.211.187

At GoDaddy, this will look like:





If you're pointing the root domain (and not a subdomain) to Ontraport, you'll probably want to consider add this second record as well, so that if people type www.yourdomain.com it will work:

Type: A
Name: *
IP/Content: 209.170.211.187

At GoDaddy, this will look like:





These A Records (or Address Record) map your domain name to Ontraport's servers. This method allows you to manage the DNS records at your domain registrar if you want to add TXT, CNAME or MX records for other services.
For email delivery success, make sure to configure DKIM and SPF records as shown in this article.
For WordPress hosting (new domain only), point your domain's A Record to 54.209.88.19. Please be aware, this IP address changed in May 2017. If you are currently using the old IP address for your A record, please continue using it. 
Using the Ontraport Pages Plugin
---
If you use WordPress for your website, you can use the Ontrapages plugin for WordPress to host your Ontraport Pages on your WordPress site. This way you're using your own, existing domain without needing to use the methods above to point your domain toward Ontraport's servers. Your published pages will inherit the SSL certificate of your website, if you have one, and will be published as a secure page. 
Setting Up Your MX Records
---
If you are using the Ontraport nameservers to point a domain to Ontraport for hosting a WordPress site or Ontraport Pages, you cannot edit the MX records yourself, but you can have us add them for you. Submit a support ticket with your domain name and the MX records from your email provider.