When using
merge fields
to personalize your emails and landing pages, you can format them so that the content appears just how you'd like.
You can also use special merge fields to tailor your messaging even further.
Formatting Date Merge Fields
---
Date fields can be formatted in eight different styles and, when you are adding date merge fields, you can use the pop up date formatter to choose how you would like the date to display.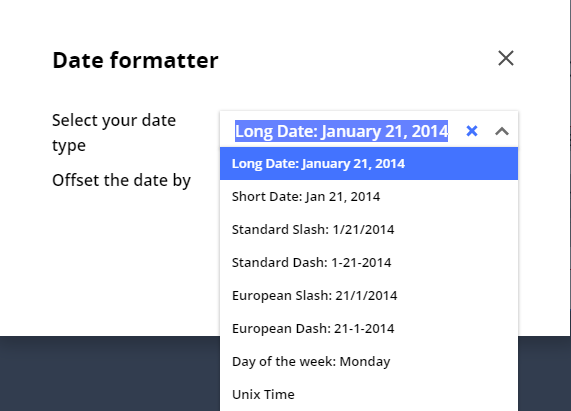 Date merge fields have "date math" that can be applied in the merge field dialog box through the "Offset the date by" area. This allows you to add or subtract days from the date. For example, you can write things like "Offer expires two days from now, on [nDate abb+2]!" in your messages, and have it render as "Offer expires two days from now, on Jan. 30, 2019!" for messages sent on Jan. 28, 2019.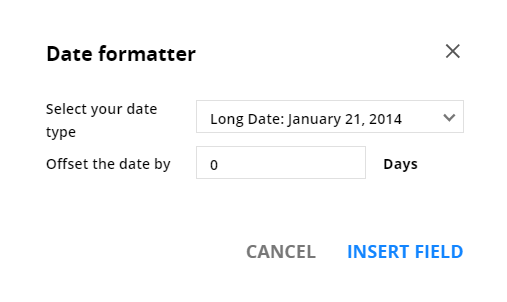 If you need to format your merge fields without the date formatter, you can edit your merge fields manually. These examples have "+0" as the number of days the date will be offset by, but you can always add and subtract days by changing the numeric value. 
Long Date:

[Birthday long+0] 

Short Date:

[Birthday abb+0] 

Standard Slash:

[Birthday ss+0] 

Standard Dash:

[Birthday sd+0] 

European Slash:

[Birthday es+0] 

European Dash:

[Birthday ed+0] 

Day of the week:

[Birthday dayname+0]

 

Unix Time: [Birthday unix+0]

Formatting Text Merge Fields
---
Text fields, like First Name, are stored in your records exactly how they were entered into your forms or imported into your account. Many contacts fill out opt-in forms using all caps, all lowercase, or other alternative capitalization that is not consistent with the formatting you may want to present in your emails. You can standardize the way that your text fields display by modifying your text merge fields.
For example, a contact may fill out your form with the first name "mary aNN", and you can format the first name merge field in the following ways:
[First Name ##cap_lower] – Capitalize the first letter in each word and force all others to lower case.
"Mary Ann"
[First Name ##cap] – Capitalize the first letter of each word. Ignore all other letters.
"Mary ANN"
[First Name ##cap_first] – Capitalize the first letter in the first word only, and ignore all the other letters.
"Mary aNN"
[First Name ##cap_lower_first] – Capitalize the first letter of the first word and force the rest of the letters in the first word to lowercase, and ignore all other letters.
"Mary aNN"
[First Name  ##lowercase] – Convert all letters to lowercase.
"mary ann"
Special Merge Fields
---
In addition to the standard merge fields, Ontraport has a few special merge fields that do more than print the value that is stored in a contact's record.
Send Date: The merge field for send date will show the date that the message was sent. If you have an offer that is valid for two days, you can add in the merge field [nDate long+2] to show the date that the offer will expire. 
Coupon Codes: You can send both personal and group coupon codes to your contacts by using merge fields. You will find the coupons in the merge field dropdown in the section for "COUPON: Your Coupon's Name". You can add the coupon code, the date it was created, and the date the coupon expires. When a personal coupon code is sent to a contact, you can see it in the "coupons" tab of the contact's record. 
PURLs: You can insert personalized URLs (PURLs) to Ontraport hosted landing pages.
Staff Fields: By adding Owner merge fields to your messages, you can send contacts messages that have information from the user profile of the team member who owns that contact. Contact Owner merge fields are useful if you have a sales team and would like to include the name and contact information of the sales rep assigned to your contact.

Opt In Links: Adds a hyperlink that says "Confirm your Subscription." If a contact who is single opted-in click this link, then their bulk email status will be updated to double opt-in.
Unsubscribe Link: All messages that are sent through your campaigns, or manual broadcasts to two or more contacts, will have an unsubscribe link automatically added to the bottom of the message. If you need to include an unsubscribe link to a message to a single contact, you can add the unsubscribe link. This adds a hyperlink that says "Click Here to Unsubscribe", and when the link is clicked it will opt the contact out.
Unsubscribe Link Raw: This provides a long, raw unsubscribe link. This option lets you select what text you would like on your unsubscribe link. Paste the [unsub_link_raw] merge field into the URL field when creating a hyperlink.

Website membership details: Send out WordPress membership details like password, user name, status, etc. These are commonly used to send out WordPress credentials to your contacts.