Your sales page is the gateway to your business. It's where your leads will end up making the decision about whether to spend their hard-earned money on your product or service. If your sales page isn't doing it's job, then you aren't making money.
If this is your first time delving into the realm of selling online, you've probably already discovered that being misguided by outdated data is quite easy. If you've looked online for information, you likely found no shortage of sales page must-haves and best practices. However, many of these resources contradict one another, making it hard to have confidence that your sales page is on the right track. Even if you know the basic information that needs to be on your page, it's easy to wonder if there is still something missing.
If you've been selling online for some time, you may have a different problem: your existing sales page isn't selling enough of your product. Low conversions might mean you need to spend more time and money on your sales pages.  It's time to focus on improvements so you can get a better return on your marketing investment, but if you're already following sales page "best practices," what else should you focus on?
Whether you're working on your first page or your fiftieth, there is one other challenge that doesn't always get easier: knowing what to write on your page. How can you motivate your readers to buy? If you're not a naturally gifted writer, this might even feel like the hardest part of the entire process.
There are plenty of reasons why a sales page may fail, so it can be a frustrating task figuring out what happened. There is a light at the end of the tunnel, but how do you get there faster?
Getting Sales Is Not a New Hurdle
Every day there are millions of online sales transactions happening. In fact, 40% of global internet users, or more than one billion people, have bought products or goods online. You'd think with so many people online it should easy to sell, but only 22% of all companies using sales pages are satisfied with their conversion rates. In fact, the average range for conversion on sales pages industry wide is only 1% to 3%.
There are several reasons for this, but one of the main ones, for small businesses in particular, is that they aren't competing with only the local shops anymore. The market is now global. People see ads everywhere and are constantly given opportunities to buy. How are you supposed to stick out to get their attention?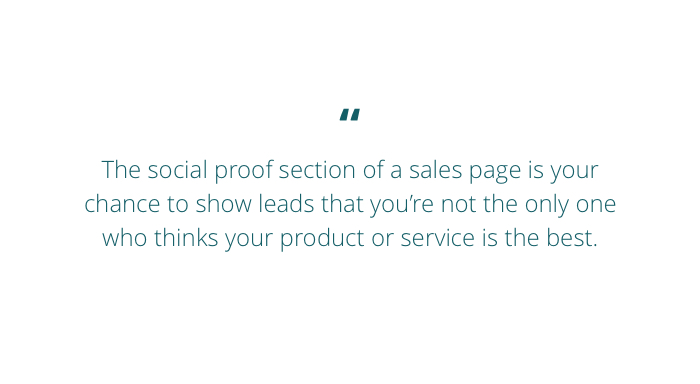 Content and Placement Determines Success When It Comes to Sales Pages
Your content is what is going to set you apart from the rest of the world. To be more specific, the way you write about or frame your message about your product or service is what is going to set you apart. Your voice, your opinion and your personality must be unique and fresh. Focusing on the messaging of your sales page will make writing the entire page a breeze, even if you aren't a writer.   
Once you know how you are going to tailor your message to your market, you will need to know which sales page elements are most important for your audience and precisely where to place them so they have the greatest effect on your pages. It's not just about having these different elements on the page; it's about their placement and your message working together to bring in more customers.
A Proven Method Has Emerged
Depending on how your sales pages are set up, you can increase your conversions by 144%. For example, a one second delay on the load time of your page can lead to a 7% reduction in conversions. Alternatively, including a pain point in a headline can increase conversions by 31%. You might think that reeling someone into buying your product by reminding them of the pain might not be the smartest idea, but new studies show it to produce a positive effect. These are all examples of how knowing what elements to add to a sales page, and where, make the difference in terms of conversions.
A Proper Sales Page Has Loads of Benefits
The obvious benefit of a precisely designed sales page is that you will convert more sales, but there is more to it than that. With a proper sales page you will get:
Higher ranking on Google to increase the traffic coming to your page for more  conversions and retargeting opportunities

Increase in revenue due to well-written copy that entices and grabs hold of the target audience

Fewer people will leave your page in the first few moments, which will lead to more conversions and higher revenue

A more professional overall look for your business that will leave a lasting impression on your leads

More word-of-mouth sales as your professional online presence begins to build trust with customers who spread the word of your product or service
Over the past decade, we've supported many small business owners who have created sales pages that knocked it out of the park. Based on what we learned, we've compiled all the advice we could into one, comprehensive guide that you can check out here.
---
---