Molly Ola Pinney is the founder and CEO of the Global Autism Project, a non-profit international organization that trains staff at Autism Centers around the world. She has used ONTRAPORT for years and came to Customer Insights to learn strategies for a recurring monthly donation model. ONTRAPORT's Campaign Director Sam Flegal went over four tips for recurring revenue models: recurring payment options at checkout, incentivizing recurring payments, upselling continuity and nurturing the ask of post-purchase donations.
We've outlined the main takeaways and included video clips below. To watch the full video, join our ONTRAPORT Facebook User Community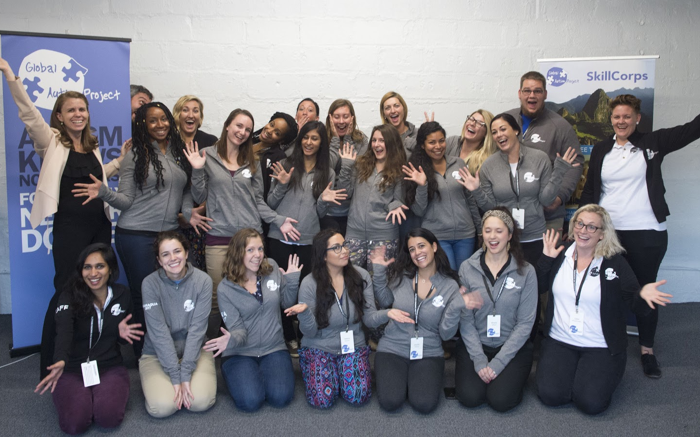 Tip #1 Offering a Recurring Option at Checkout
Simply incorporating copy and imagery about the option to make a recurring donation or payment at checkout is a great way to encourage customers to use it.
You can provide customers/donors with the recurring payment option directly on the checkout page or on a separate product option page. The latter means creating a separate page with both the one-time payment option and recurring option, each linked to separate checkout pages. Both options are available within ONTRAPORT, and you'd want to test which garners a better response for your audience.
In Molly's case, her primary goal is bringing users to the donate page and ultimately maximizing her donations. Molly has set up a page with three buttons indicating a different monthly donation amount, each button click leads to a different ONTRAform.
To learn more about recurring products on checkout forms and pages, check out this knowledge base article.
Tip #2 Incentivize Recurring Payments
Recurring value will deliver recurring revenue so, as a business, you must offer an incentive to buyers. The question is, then, how do you incentivize customers and donors to agree to recurring payments?
If your business falls in the category of services and coaching, examples of incentives are:
Continued education programs with new training on a membership site(s)

Weekly/monthly/quarterly group or individual calls
In Molly's case, the Global Autism Project is a non-profit that is funded through donations. There is no direct product or value in exchange for donations; however, there are methods to incentivize donors. Sending out a monthly newsletter with updates on the non-profit's work can be an effective way to show donors how their contributions are helping people. Another incentive for donors could be to create an online community for supporters, such as a Facebook group.
Molly mentions she could incentivize the longevity of membership by establishing a reward event for those who have been members for six months or longer.
For more information on setting up a membership site through ONTRAPORT, check out this knowledge base article.
Tip #3 Upsell Continuity
Once you have established the package that you want to offer to consumers, it can be effective to upsell it. Upselling is a technique that encourages the buyer to purchase additional products and/or services on top of their original purchase.
In Molly's case of single-donation order forms, Molly could prompt the donor with the option to purchase membership for $10/month with the first month free after they donate. This is a great way for donors to learn about membership and facilitate the subscription process because the donor has already entered their payment information from the previous donation.
To learn more about upsells in ONTRAPORT, check out this knowledge base article.

Tip #4 Post-Purchase Donation
If your organization is generating a healthy amount of one time donations from supporters, it's a good idea to focus on nurturing these supporters to become recurring donors.
After an individual has donated, it is important to follow up with them and deliver valuable content. This may be in the form of an ebook, video, or any other type of bonus content. Once you have sent valuable content to the donor and built that trust, you could ask again, this time for a recurring donation.  Sam recommends that organizations send three pieces of bonus content before asking for a donation.
Once three pieces of bonus content are delivered, you might send five offer emails. If these five offer emails do not prompt a purchase/donation, the offer emails sent to this user should cease.
It is imperative to measure the effectiveness of your offer emails. Set yourself up for success by implementing a tracking system at the beginning. Sending the offer and bonus content emails is an important part of the post-donation process, but it is also necessary to measure the opens/clicks, page visits, and purchases so you can understand which offers were effective.
Molly reflects on using ONTRAPORT and says she is now able to make simple changes to her system and then measure results for optimization.
Want to be featured on Customer Insights?
Sign up and submit your question to be featured here.
---
---