Your customers' friends are your best leads. With at least one third of the people who buy from any brand doing so on the recommendation of a friend or trusted acquaintance, building a referral program in your own company should be a no-brainer. One third — that's a huge portion of your sales. That stat alone explains why referral programs can be so effective.
Referral programs work once you've created a business worth being referred. Let's imagine that you've made an incredible product or service, gotten it out into the world, and generated some success and buzz with it. Imagine further that you have generated a number of super fans and power users who you've recruited to become your referral partners ready to rep your business to the world.
In this dreamy scenario, wouldn't it be nice if once you created your army of referral partners, they'd be at the ready, anxiously waiting to promote your product each day and help you grow? Of course it would. And while this is not an impossible dream, it is not one realized without a lot of strategic planning, access to the right tools and, most importantly, powerful incentive for your partners.
After all, your referral partners probably came to you first because they love your product or service, but they probably signed up for your referral program because of what was in it for them. Any successful referral program is kept alive by incentives that motivate referral partners to work hard. Here are some ideas for how to set up your partner program with incentives that work so that your partners can do their best and make it a win-win.
Step One: Make it easy and rewarding for them to get started:
If you give someone pieces to a puzzle without a picture of what it's supposed to look like, they're more likely to give up halfway through. It's not impossible to complete, but without that necessary tool right in front of them, it might start to look a little sloppy and they'll have less motivation to persist.
The same idea can be applied to referral marketing. One of the most critical aspects of your referral program is that you make it easy for your partners to make referrals effectively and use the right tools. To facilitate this for them, ideally you will create a suite of marketing assets from which they can choose to plug and play when they are ready to start actively referring.
Here are three ways to make it easy for your partners to refer you using well branded and effective assets that work for your business.

1. Put together promo tools and training
Provide your partners with an official contract detailing appropriate and inappropriate methods for promotion. Once they've signed the contract, equip them to succeed with promotional tools such as ebooks, blog posts, banner ads and free samples. To give your partners even more guidance, try hosting a webinar or creating a training video on how to effectively promote your product or service
2. Set up milestone bonuses
Milestone bonuses are the backbone of any partner marketing program, as they give your referrers something to strive for. Set up a "first sale bonus" to motivate them to start promoting as soon as possible. From there, build a milestone calendar with rewards that scale with more sales or at set revenue thresholds. The key to successful milestone bonuses is to ensure the reward fits the work it takes to achieve the associated number of sales. Very few people are willing to work overtime to get you 1,000 referrals if the reward is a pat on the back. As a rule of thumb, if you wouldn't work for the reward you're offering, your affiliates most likely won't either.
3. Present the opportunity to guest blog
Once you've built and fostered relationships with your partners, new mutually beneficial opportunities will open up, such as publishing a guest article on your blog. This benefits them because it gets their name out, and it benefits you because it adds valuable content to your bank of articles. It's a win-win. Plus, they'll likely do a great job because they know your product, and they want you to succeed.
Step Two: Keep your referral partners actively engaged for the long run
Your partners originally joined your program because they loved your business's products or services enough to tell their friends about it. But they stay committed because your program makes them feel like they're part of something bigger. By personalizing every interaction, you will build trusting relationships with your partners that will get them excited to refer you to their friends and family.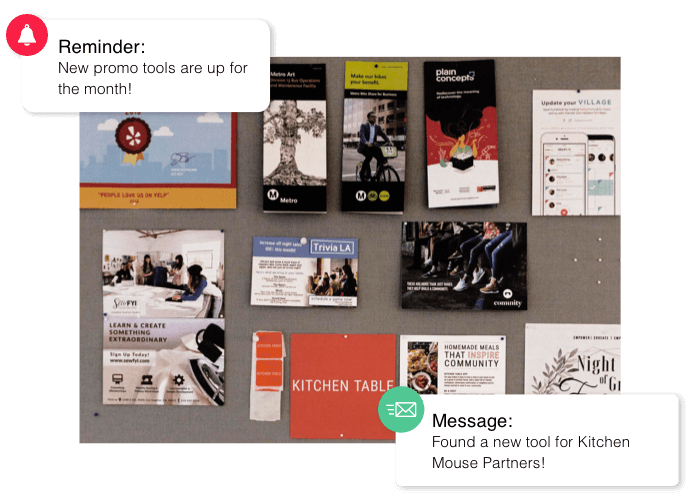 Follow these four tips to keep your partners in it for the long haul:
1. Make your partners feel valuable
Make your referral partners feel respected and appreciated by giving them exclusive access to events, webinars and offers. Send out newsletters with special announcements to your partners before you inform the general public. When you treat your partners like VIPs and insiders, it makes them feel like they are contributing to the bigger picture of your business (which they are).
2. Simplicity is key
Make it easy and effortless for them to promote your business by having an easy-to-use, organized partner program ready to go. Give them resources that are well-made, well-designed and put your brand's best face forward. This makes it easy for them to be on-brand in their efforts and helps amplify your brand recognition.
3. Stay connected
Provide regular communication and status notifications. Give them fresh content on the target buyer and tips on how to make referrals. Build your referral partners into a larger community. Whether you use a Facebook Group, special promotions, or informative webinars and coaching programs to engage your partners, make sure that you are actively interacting with, checking in on, and encouraging your partners.
4. Highlight your partners' success
Showcase success stories of referral partners. This can be as simple as giving kudos to top performers, but the real value is in telling their story. For example, how did a partner get 10 successful referrals in one month? What is the advice of your top referring partners? What is the key to their success? Take a few hours each month to interview a partner or two and highlight their story. This will help to motivate and drive activity from your referral partners.

Step Three: Try out gamification techniques
Gamification is the use of game methods and techniques in a given process (in this case, referral marketing), and it can make referral programs more fun for your partners.
These techniques can help motivate and engage users and make their efforts feel less like work. The motivators are usually a type of reward such as prizes, points or badges. An example of gamification in a company that everyone knows is Starbucks' Rewards Program: Customers earn stars for their purchases, and then trade those stars for rewards. Starbucks also offers double reward days, which creates a sense of urgency, creating a buzz and resulting in increased sales.
Here are a few examples of gamification that you could add to your partner program:
1. Point systems
Offer points for every referral made. After a certain amount of points, let customers trade the points for gifts/products/whatever makes sense for your business. For example, if partners refer a friend, they'd receive a certain number of points. If that referral then makes a purchase, that partner will get significantly more points. By referring, partners can quickly build credit in their account.
2. Create a leaderboard
This board would display where each of your referral partners stands in terms of referrals and sales. The visual display of each partner's ranking and progress creates excitement and stirs our natural sense of competition. Winners at the top of the leaderboard in a given time period are rewarded with a highly sought-after prize of some kind.
3. Create contests
Similar to the leaderboard, you can create a challenge for customers to get referrals within a certain time frame. The partner with the most referrals by that date or within that time frame wins the prize.
Sporting event tickets

A prepaid weekend getaway

Two plane tickets

Free access to your product or service for one year

A new laptop or cell phone

Any other higher value product relevant to your industry
The most important aspect of successful referral partner programs is to make it easy for partners to refer and then to keep them engaged with regular communication. Remember that, and you will succeed in your referral marketing journey.
---
---