Everyone knows that SEO is incredibly important for online businesses, but not many can explain exactly why. Why is it so important to be on the front page of Google? Why should you care about where your business shows up in search rankings? Why do ecommerce sites need to be optimized?
SEO is like real estate: It's all about location, location, location. Showing up on page one of search results means a huge increase in traffic to your website. The first three items of a Google search receive 60% of the clicks, with a whopping 33% going to the top listed website. According to NChannel, 44% of people begin their online shopping experience with a search engine.
HIGHER RANKINGS = INCREASED TRAFFIC = MORE SALES
Think of it like this: It's 1976 and you decide to open an ice cream shop. Your ice cream is delicious and your shop is amazing. Here's why you've doomed your business right out of the starting gate: Your expertise is in making ice cream, not advertising. Consequently, you cut the ribbon on your local business without registering in the local phone book, spreading the word around town, hosting a grand opening, or even putting a sign up outside your building. In spite of selling the best ice cream in town, no one knows about your shop.
To take this example even further, ignoring SEO is the equivalent of letting the storefront of your ice cream shop deteriorate – even if it's visible from the street or sidewalk, the negative appearance will drive people away.
In today's competitive online marketing landscape, optimizing your website for Google needs to be a huge priority for your small business and something you cannot afford to ignore any longer. Use these ecommerce site optimization strategies to upgrade your existing website and generate more sales.
Ecommerce SEO Strategy #1: Set Up an Internal Linking Structure
Having a successful internal linking plan in place is a necessity when creating any website — not to mention a high-performing ecommerce website. Internal linking is the process of creating links that go from one page on a domain to a different page on the same domain. The best part is that if you correctly utilize category pages on your website, then a majority of the heavy lifting of internal linking is handled for you almost automatically.
There are a few reasons why you would want to implement a bevy of internal links within your website:
Internal linking keeps everything organized

: A well executed internal linking plan will ensure your visitors can easily navigate your website as internal links naturally establish an information hierarchy.

Internal linking allows Google to crawl your pages more easily

: Thanks to the neat website organizational structure that a category navigation and internal linking plan create, Google has a much easier time crawling your website. When you make it easy for Google to index your site, they reward you.

Internal linking allows you to cross sell and upsell other products to your website visitors

: While not necessarily an SEO benefit, this point is still highly important. By making it easy for visitors to get to other pages on your site, you could reap huge financial and SEO gains. Amazon does a great job at this with their "Other people bought" and "More products you might like" sections on each page.
Ecommerce SEO Strategy #2: Utilize Product Reviews
Customer product reviews are one of the most impactful elements you can include on an ecommerce product page.
Not only do reviews help you ensure your product is up to snuff (positive reviews signify that customers find value in your product) and act as powerful social validators, they also provide your site with dynamic SEO value, as they add new, fresh content to your pages.
Since customer product reviews are user generated, they are highly valuable pieces of content to your potential customers – they were written by real people who have actually purchased the product. This matters greatly because your pages will continuously be updated with a constant stream of content (Google loves regularly updated pages), not to mention the content is created by a third party, so you don't have to spend any of your own time writing fresh content. It's a win-win.
As a bonus, the way most people write reviews is indicative of how most people search for things on Google – the language is usually the same. Not only is your page continually being filled with new content, but the content is naturally keyword heavy, which will drastically boost your search engine rankings.
Ecommerce SEO Strategy #3: Include Schema Markup on Your Pages
Schema markup is "a bit of coded HTML that tells search engines what searchers should be able to understand about your website before even clicking through to see it." According to Search Engine Land, your website can get a 30% increase in CTR with markup, which can seriously improve your website's user signals (a factor Google takes heavily into consideration when determining search rankings).
For example, would you rather click on this boring search result…
…Or one of these results that are enhanced with schema markup?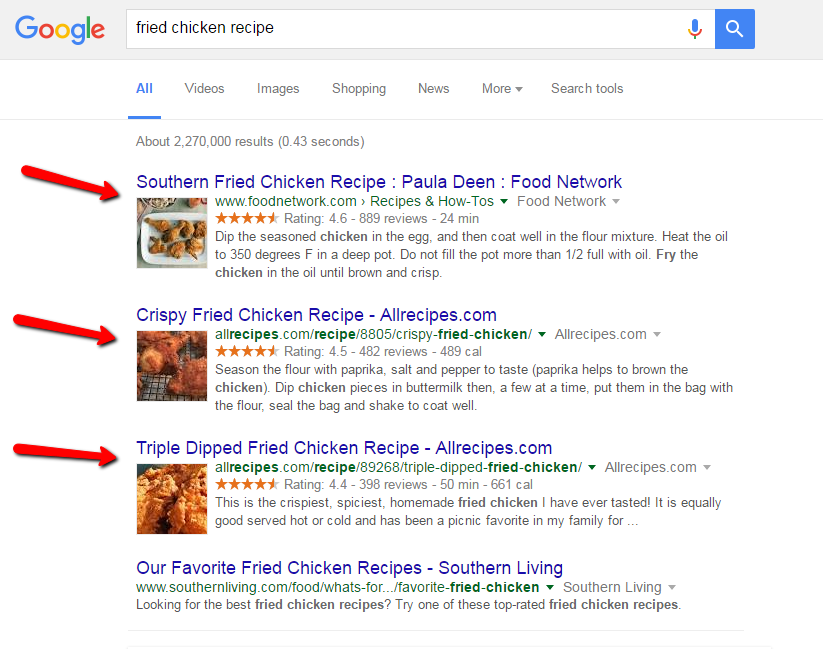 Results amplified by schema are much more appealing and garner more clicks. Markup is especially important for local businesses such as women's boutiques.
Take a look at the screenshot below. Look at what results came up when I searched for "men's shoes." All the results displayed within the map were specific to my area.
There are many different types of markup you can add to your pages, including ones for: authors, business information, events, music albums, people, products, recipes, reviews, and videos. To install schema markup on your site, check out Google's Structured Markup Helper as well as this awesome post from Backlinko.
Ecommerce SEO Strategy #4: Optimize Page Speed
Believe it or not, the speed of your website plays a massive role in the success of your website. How patient are you with web pages that take forever to load? If you're like most people, a few seconds too long is all it takes before you bail.
In fact, according to research done by KISSmetrics, 40% of people abandon a site that takes longer than three seconds to load. That means 40% of potential sales and/or conversions are leaving your website before they even get a chance to see the content on it. Stop losing customers because your site is slow; take the time to optimize your website's page speed performance.
Check out PageSpeed Insights and Pingdom to see if your website's page speed performance is up to snuff. If it takes longer than three seconds to load, consider using some of the strategies and tools in this extensive post from Learn to Code With Me. Our personal favorites are Amazon AWS and WP Total Cache.
Ecommerce SEO Strategy #5: Create Original Product Descriptions
Often, depending on what kind of items you sell, ecommerce retailers will use product descriptions from manufacturers on their websites.
That's a huge mistake and here's why:
Google hates

duplicate content

, and thousands of other sites are likely just going to use the manufacturer's product descriptions. By merely duplicating the same content as everyone else, you're effectively waving a red flag at Google begging for an

SEO penalty

.

Original product descriptions are a way to let your personality and brand shine through a normally bland area of the page. Search Engine Land states, "Typical product descriptions are dull and technical. People, however, buy on emotion and feelings. Bring your product descriptions to life by telling a story."
For example, check out this awesome product description from ThinkGeek.
And this one from Method.
Both of these are unique, persuasive, and rich in personality. Make your product descriptions like these.
If you're a high-profile ecommerce website, writing unique product descriptions might be a tall task, but a smaller site should absolutely be writing their own, original product descriptions. As a last resort, you could outsource your product descriptions if you have to.
—––––––––
Take advantage of the useful strategies and tips in this post and you'll see results. You should know it will take some time; increased search rankings won't happen overnight. SEO is a marathon — not a sprint.  Don't get discouraged; you're making a difference with every SEO technique you utilize. For example, six months ago we executed a site-wide SEO project here at Ontraport, and we are just now starting to reap the benefits of that project.
For more insightful ecommerce content, check out our detailed blueprint, The Ultimate Blueprint to Ecommerce for Entrepreneurs, and subscribe to our weekly newsletter.
---
---