You likely spend a lot of time and effort building your email list, writing emails, and sending them on a refined schedule as part of a well-orchestrated campaign. What's often forgotten is what happens when your email is in sender purgatory, between when it's fired off and when it reaches your recipient.
Emails go through numerous checks and filters during this phase, and there's a lot riding on clearing them: It's the difference between landing in your recipients' inboxes and landing in the spam folder, never to be read. That not only means you've wasted time, money and effort creating the email, but it also means your email open and click-through rates will decrease — skewing your results and, in turn, affecting your future ability to land in the inbox.
Making it even more challenging, most major ISPs have implemented, or are working to implement, "engagement judgment" features that allow email recipients to only see messages coming from the senders with whom they are most engaged. This creates an environment where keeping an active email list and a high degree of relevance in your communications are more important than ever.
The great news is that if you play by the rules and follow some important standards, the email deliverability landscape does not have to be a nightmare. We've gathered best practices to follow from beginning to end to support you in avoiding the accidental arrival in a spam filter. Simply follow these guidelines for setting up, creating, and sending your emails, as well as maintaining your email list, and you'll be on the path to better delivery rates.
Setting Up Your Emails
There are a few factors related to your email formatting and set-up that impact delivery, and you can apply them across all your messages and templates.
Use a clear and consistent "From" name and address
Upon an email's arrival in your subscribers' inbox, your "From" name is one of the first things they see. When selecting yours, it's important to make your identity obvious and to keep it consistent across all communications a contact may receive from you. If your contacts don't know who they're getting mail from, they're a lot more likely to delete your message or mark it as spam.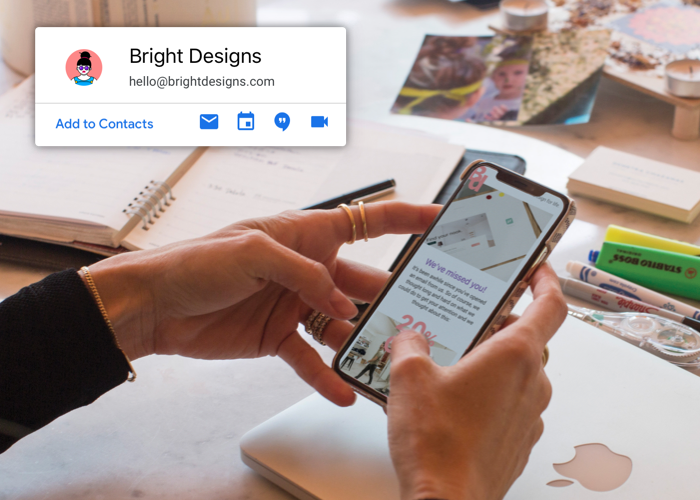 Your From name can simply be the name of your company or, if you're sending an email from a specific person at your company, you could use something like "Joe at [company name]." Likewise, the From address should clearly relate to the From name and remain consistent. For example, if your From name is "Joe at [company name]," use "joe@[companyname].com" as the From address.
Include a valid and recognizable "Reply To" address
Like the From name and address, the "Reply To" address should be clear and consistent. Be sure the reply address is an active mailbox where you will actually see message replies and respond to them. While personally responding to every email you receive sounds like a daunting task, it's excellent for building strong customer relationships, and mailbox providers will notice the high level of attention you provide. The more messages you have between you and your subscriber, the more likely their inbox is to automatically whitelist you, so it's a win-win for both you and your contacts.
Include whitelisting instructions
Encouraging subscribers to whitelist your address is one of the best things you can do to boost your email marketing results. The best time to do this is in your welcome email after they subscribe to your list. In your email, provide step-by-step instructions explaining how to whitelist your address so that all future emails skip the spam filters and hit the inbox directly.
Include a permission reminder
Another great way to make sure your customers and prospects don't mistake your email messages for spam is to include a permission reminder — adding a note near the beginning or end about why they are receiving emails from you. These reminders can simply say "You're receiving this email because you signed up for [company] email list."
Follow footer protocols
Your email footer will typically remain the same across the board on your marketing emails, and there are some spam law requirements that should be a part of it. Your emails must include a physical, postal mailing address where your subscribers can reach you (a phone number is not required). In Ontraport, your footer will automatically populate in all emails using the address in your account's personal profile.
Include unsubscribe options
Spam laws require that you give subscribers a way to opt out of receiving your messages and, as much as you don't want to see subscribers go, the unsubscribe button is actually your best friend. Why? Because contacts who unsubscribe are those who, if they remained subscribed, likely wouldn't open your emails. With them off the list, your average email engagement rate will improve.
The unsubscribe button gives them an alternative to clicking the "this is spam" button, which is far more damaging for your sender reputation and future delivery rates. Make sure your unsubscribe link is easy to find rather than hidden; if your recipient can't quickly find it, they'll go straight to the "this is spam" button. If you send your emails in Ontraport, the unsubscribe link will automatically populate in the footer of all your messages.
You can also maintain your list by allowing recipients to unsubscribe only from certain funnels while remaining subscribed to others.
Writing and Designing Your Emails
When it comes time to write your subject lines and body copy and design your messages, follow these best practices to avoid the spam folder.
Write emails people want to read
The time you spend perfecting your messages is all for nothing if they're not welcomed by your list in the first place. Before you write anything, take a step back and consider what people want to see from you and base your content around that. Make sure your messaging is compelling, relevant, and tailored to the needs and interests of your recipients. If they look forward to opening and reading your emails, they'll naturally engage more. According to Outbound Engine, 70% of consumers reported that they always open emails from their favorite brands and, as a result, your messages will more likely make it to the inbox.
Avoid spam-trigger words
When writing your email subject lines and preheaders, try to avoid spam-trigger words whenever possible. Some are obvious, like "Make Millions Now," or "$$$," but even some of the more seemingly harmless words like "Call now" and "Amazing" can catch the spam filter.
If you need to use some of those words, you aren't completely out of luck — just remember that context is what matters. As spam filters have become more sophisticated, they can now analyze the context in which you use words.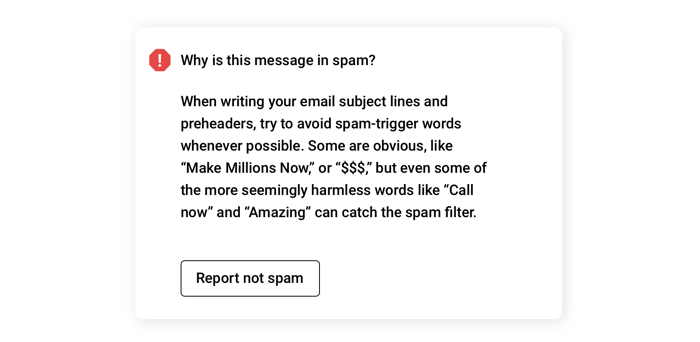 Don't use 'swipe copy'
Some affiliate programs provide email copy for their affiliates to use to promote their programs. While their goal is to provide consistent and high-converting messaging to partners, when there are hundreds of people using the same copy and methods to promote the same product, it triggers spam filters.
Minimize images, graphics and text formatting
If you plan to include images, it's important to consider them in conjunction with the amount of text in your email. Spam filters don't like it when lots of images are used relative to the amount of text; spammers of the past could write anything in an image, and spam filters would be none-the-wiser, but that's no longer true. Be sure to include a solid amount of copy if you plan on using images; aim for about 80% copy and 20% images.
It's also important to note that not all ESPs will actually display the images that you include in your email. Some, such as Yahoo!, initially display the email as plain text and then give the user the option to allow image display. This means the email template you use has to be visually appealing both with and without images. We recommend that you limit the number of images you include to one or two.
Similarly, spam filters do not like a lot of text formatting such as bolding, italics, highlighting or changes in font color and size. Keep your text clean and minimize this type of formatting.
Use hyperlinks instead of raw and shortened URLs
If you're including links in your email, avoid using raw URLs. Instead, use a hyperlinked word or phrase, such as "click here," "download now," or simply linking the title of the page or content you're promoting, such as "read our [Article Title]."
Similarly, avoid using shortened URLs from services such as Bit.ly. These also work using a redirect, so they send everyone first to their domain before your intended destination. That means your email sending reputation gets lumped in along with every other sender who sends links to these domains, including spammers, who often use these shorteners to hide links that go to scam sites. A more suitable alternative would be to add a hyperlink with an anchored text.
It's important to double check that the hyperlinks in your email, including in your email footer, aren't broken or outdated, as broken links are a fast track to the spam folder.
Don't use attachments


Sending emails with attachments will land you in the spam box when sending bulk mail. Instead, use the free file manager included in Ontraport's software to upload your document and then include the download link in your messaging.
Sending Your Emails
Once your message content is complete, there are still a few more steps to follow before scheduling or sending your email to support its delivery to the inbox.
Create a plain text version
Service providers can scan the plain text version of emails for signs of spam, so it's important to have a plain text version. Simply click the "Copy from HTML" button to populate a plain text email version after you're finished creating your email.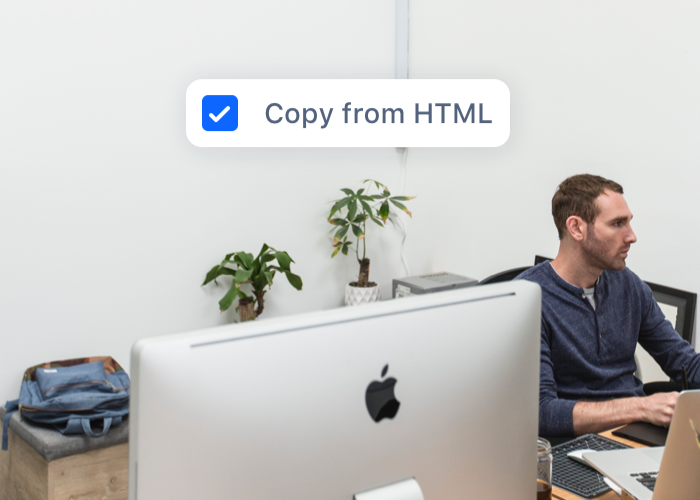 It's also important to ensure the plain text version matches the HTML version of your email so that providers don't think you're attempting to slip something past their filters.
Check your spam score
Ontraport's's email editors are equipped and integrated with SpamAssassin, a spam scoring tool that works as a email spam filter and uses sophisticated spam detection techniques to scan your emails before they go out. To check your spam score, while in Ontraport's email editor click on Settings, then Spam Score.
In addition to providing a spam score, the tool provides notes to point out aspects of your emails that may universally be considered spam by email and internet service providers. The higher the amount of spammy or questionable content, the higher the spam score. To protect our senders, Ontraport won't send any emails with a score of five or higher.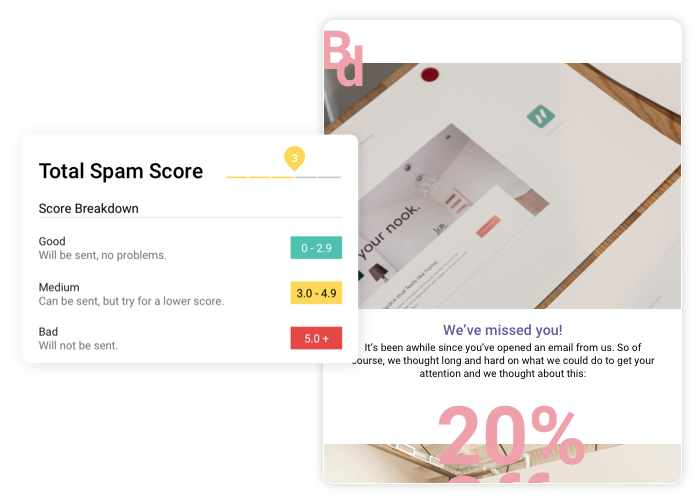 Use a reputable email service provider to send your emails
There are several additional steps related to email authentication and domains that significantly impact your delivery, but if you're using a reputable email service provider such as Ontraport, this is taken care of for you. Our team has put in place stringent standards to ensure the delivery rates on our public pool of IPs remain healthy and provide a clearing for 100% inbox placement. For example, every message that leaves our system is signed with DKIM, domain keys, and proper SPF records, all of which ensure you get the best delivery.
Use seed testing
Seed testing can be a great way to understand how often and how quickly your emails are getting delivered to different mailbox providers, such as Gmail, Outlook and Yahoo. A seed test involves sending a tracked email to a collective of approximately 700 monitored email addresses to gauge deliverability. Ontraport integrates with 250ok and other seed test providers to support these efforts.
In general, it's wise to seed test if you're making any significant changes in your content, such as changes in your template, brand voice or even delivery times, or if you notice any sporadic fluctuation in your delivery rates. A dip in your opens, for example, could indicate that you've fallen out of grace with a particular provider. If you're interested in using 250ok to run seed tests on your mailing list, email postmaster@ontraport.com.
Managing Your List
It's critical to keep your email list clean and ensure you're only sending to valid, active subscribers.
Manage complaints and bounces
A complaint is registered when a recipient clicks the "this is spam" button; a complaint rate above .35% will generally cause deliverability issues. Hard bounces are when an email is not delivered because the email address it was sent to no longer exists or is otherwise invalid.
If you're using Ontraport to send your emails, avoiding and managing these issues is taken care of for you. Our Postmaster team monitors messages leaving our system and holds all our clients to a maximum 0.1% complaint rate and a 7% hard bounce rate. The team also handles removing contacts who complain and hard bounce from your list, as continuing to send emails to these addresses can have detrimental effects on your delivery and reputation.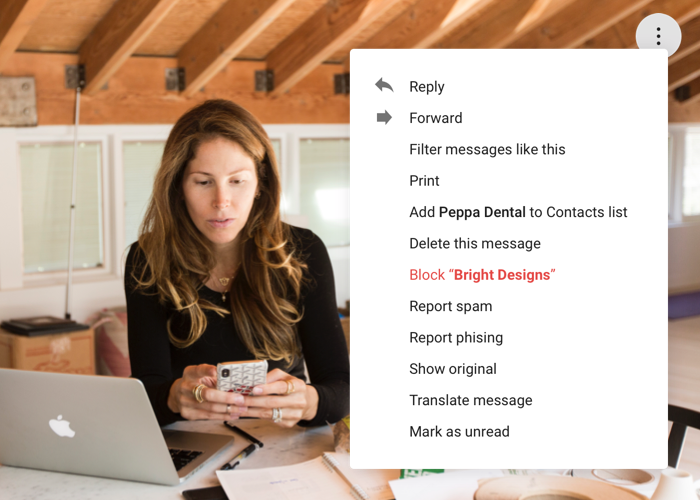 Prune role addresses and inactives
Email addresses starting with a company role, such as sales@, info@, spam@, marketing@ or admin@, are not good because they're often used as junk mail addresses or are forwarded to many people — most of whom didn't ask to receive your mail. A good practice is to regularly search your list for these role addresses and unsubscribe them.
Another good practice is to remove contacts who haven't responded in a long time. For example, if you haven't gotten an open or a click from a contact in six or nine months, even though you mail them weekly, it's probably smart to delete them. They're worth very little if they're not engaged, and they may potentially mark your emails as spam somewhere down the line.
Rather than manually deleting these inactive contacts, we recommend using a re-engagement campaign. Check out our use case article in this issue for details on how to use our pre-built campaign in your account so that your list is kept clean continually and automatically.
Confirm permission
Sending emails to people who didn't give you permission is a fast track to a high complaint rate. Permission means that someone has specifically requested to receive email from you about a particular subject and is expecting it.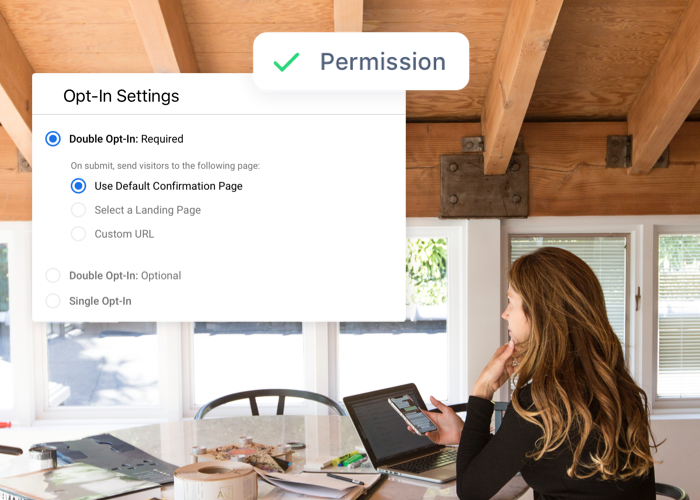 Ontraport is a permission-based marketing tool; we prohibit sending email to anyone who has not specifically requested to hear from you, including any rented, purchased or harvested leads. These stringent guidelines are the reason our email delivery rates remain at the top of the industry.
One way to confirm permission is to use a double opt-in confirmation message. This means you'll automatically send an email to new form fill-outs containing a link that must be clicked in order to confirm the validity of the email address they entered. This ensures that all of the email addresses people enter into your forms belong to actual people and not spam bots, and it also serves to double check that someone who filled out your form actually wants to hear from you. Once the email address has been confirmed they'll be able to receive bulk emails from you.
You can also use Ontraport's unique "Double Opt-In Optional" setting, which sends the email address confirmation email but also adds the contact to your database and allows you to send the contact emails. This means you're building your list with less risk of losing contacts who might not follow through with the email confirmation click, while also gaining confirmations from those who do.
Email regularly and as expected
If you suddenly send an email to your list after a long time of inactivity, it's possible your recipients don't remember you or are no longer interested in hearing from you, and they'll quickly mark your email as spam. To avoid this, keep your email marketing active and, if you haven't emailed your list in over three months, start by sending a pitch-free email reminding them of who you are and inviting them to opt out if they're no longer interested. If it's been longer than six months, consider your permission expired, and don't email them.
Similarly, be sure you're only sending the types of emails that your recipients gave you permission to send. If they signed up to receive your newsletter, you shouldn't send them a promotional offer email. Keep the content of your emails relevant to their interests and what they initially opted in to receive.
---
---