---
Your Ontraport account isn't just a complete automation toolbox — it's also a storehouse for all of your marketing materials. With Ontraport Systems, you can now keep those materials organized by the process they belong to for easy access and overview.
Think of Ontraport Systems as containers in your account where you can put all your related assets, such as landing pages, forms, emails, campaigns, tasks, etc., and easily manage every piece of the processes you have running for your business.
For example, if you clicked into your newsletter system, you'd see your newsletter signup form, new subscriber thank you page, newsletter emails and newsletter campaign.
When all your related materials are stored together, it's easy to stay organized. You don't need to use any strategic naming conventions, and working with teams or virtual assistants is a breeze, since you'll all be on the same page — literally.
You can enable Systems in your account by going to 

→ 

→ Advanced features and toggle on Systems.
Once it's enabled, you'll have a new button on your navigation bar –

.
When you click that button, you'll be brought to your systems collection, and from there you can click 

to get started.
Adding assets is easy. If you want to add an email, locate the email section and click 

then select your email or create a new one as you go.
You don't have to add all your assets one-by-one because your systems can tell when your assets are related. Let's say you have a campaign that sends three emails. When you add that campaign, you can automatically add the emails to your system at the same time.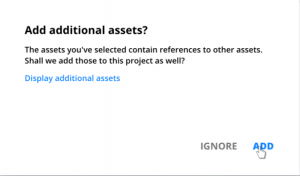 Once your systems are set up, you can check out the stats for each piece, get an overview of how your entire process is working, and quickly make any needed changes.
---
---