Ontraport has always been designed to help you systemize your business so that you can scale. Now we're taking it a step further by systemizing your business for you.
We've created all the essential systems a business needs for capturing leads, making sales online, engaging customers and more so you don't have to worry about it.
You won't have to build automations from scratch.
You won't have to stare at a blank page as you try to word your emails just right.
You won't have to hire an expensive designer to make your pages look good.
We've done it all for you.
"My vision for Ontraport has always been to create a software that's simple enough for non-tech geeks but also actually useful," said Ontraport Founder and CEO Landon Ray. "With these prebuilt systems, we're giving entrepreneurs the fastest and most effective way to build their business online."
These systems are more than just funnels — they include all the pages, emails, tasks, forms, and anything else that's part of the experience. They're also more than just templates — the assets have been thoughtfully written and designed by professionals using today's best practices.
What systems and setup wizards are available?
Our goal is to create a setup wizard for almost every system you can think of. In the first release, we've focused on systems that you've told us in our Facebook User Community that you want:
Email Newsletter Opt-in and Delivery: Collect new subscribers, confirm their subscription, and automatically schedule and send your newsletters.
Free Download Lead Magnet Funnel: Get opt-ins for your free resource, deliver it via email, and follow up to keep your new leads engaged.
Mini-course Lead Magnet Funnel: Show your expertise to your leads and pitch your product with an educational video email series.
Webinar Promotion Funnel: Gather sign-ups for your webinar and automatically send reminder emails to increase attendance at your webinars.
Thank You Page Conversion Booster: After you capture new leads, use your thank you page to learn more about them so you can follow up with relevant messaging.
Stay-in-touch Drip Email Campaign: Nurture your leads with an ongoing series of emails that share your expertise and advice.
Persuasive Sales Funnel: Sell your product or service with a long-form sales page and order page, built to convince buyers that you're the right choice.
Abandoned Cart Recapture: Give a nudge to almost-buyers who came to your order page but didn't complete their purchase.
Smiley Survey and Testimonial Generator: Gauge the sentiment around your product and gather testimonials from your happiest customers automatically.
Membership Starter Kit: Create an Ontraport Membership Site, complete with automated login functionality, reminder emails and more.
Subscription Management on Autopilot: Manage subscription payments and give your subscribers a Customer Center for self-service.
How the prebuilt systems work
To get started with a new system, go to Systems → +New, select the system you want to work on, and click Start.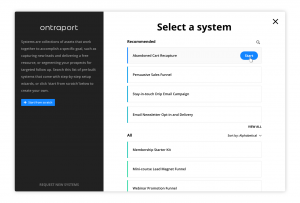 Every prebuilt system comes with a setup wizard that will walk you through how to customize your campaign and assets for your own needs.
The wizards begin with an introduction video that tells you what the system includes, what you can achieve with it, and how long it's going to take to set up.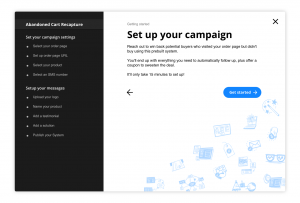 When you're ready to begin, just click Get started.
After the introduction, the setup wizard steps are broken into sections, such as a section to set up your campaign and a section to personalize your messages.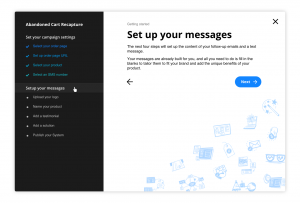 Each section comes with its own set of steps with instructions for simple tasks such as adding text or images as well as any context you need about the asset.
For example, when tweaking our prewritten text, you'll be able to see a text preview so you can be sure your copy makes sense within the context of your message.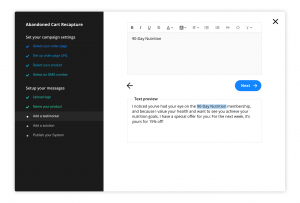 Or if you're adding a link to set up your campaign, the setup wizard will tell you what page you should grab a link for and all the fields you need to set up the link.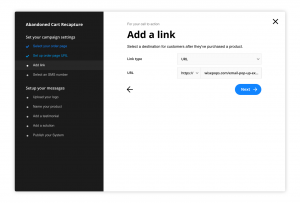 You'll be able to track your progress on your steps sidebar, and you can skip steps that you're not ready to work on yet. You don't even have to complete a setup wizard in one sitting because all of your work will be saved for you.
From your Systems tab, you can see how much progress you've made, and you can simply jump back in to complete any of your incomplete setup wizards.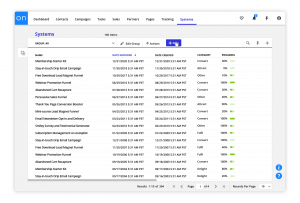 Once you've completed the setup wizard steps and click Finish, all of your assets will be installed and stored, and you'll be able to find the system in your Systems tab.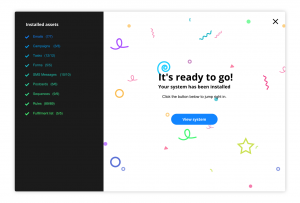 Lastly, after you launch your system, you'll get notes and tips about other ways you can customize the system.
Organize all your campaigns with Ontraport Systems
While our prebuilt systems are great for those getting started or those ready to systemize a new aspect of their business, users who already have systems in place — even if it's something you built years ago — can also benefit from the Systems collection.
In the Systems collection, you can add your own systems to keep all your related assets together.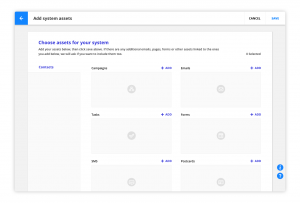 You can easily and quickly find what you're looking for when you need to make updates or check on the status of a campaign.
To create a system, simply go to Systems → + New → Start from scratch and start adding your assets.
You won't actually have to add every single asset one-by-one; if you add an asset that is already connected to another, such as a campaign that sends three emails, all connected assets can be added.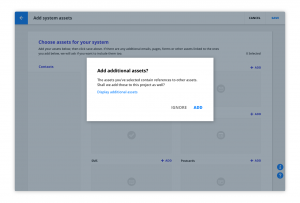 Systems are good for more than just organization. They're a massive upgrade when it comes to measuring performance.
With the stats for every asset in your system in one place, you can easily identify any emails that need to be reworked or a landing page with the best conversion rate. This birds-eye view of your systems makes managing and optimizing your system a cinch because you've got all the information you need right in front of you.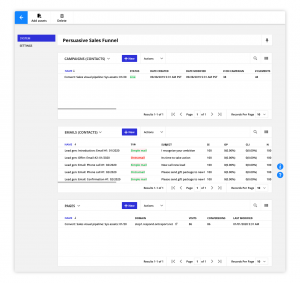 Check out all the prebuilt systems available in the Systems tab, and let us know what you think in the Facebook User Community!
---
---