A landing page is the first and possibly the only chance you may have to grab a visitor's attention, but sometimes that is harder than it seems. It doesn't matter if you are fairly new to the game or a seasoned veteran; it's tricky to find the right combination of content and design that generates the conversions you are looking for.
Have you ever launched a promotion or product only to get a disappointing response and reaction from your audience? You might be wondering if mediocre copywriting is to blame. It's no easy feat to master copywriting. It can be disappointing when you have been working on optimizing the same page copy for so long without seeing any increase in conversion that you feel unsure what to try next. Even though you have an open mind about learning and trying new things, and even though you've spent days scouring the internet for solutions, it can seem like a never-ending issue.
Maybe you know the copy on the page isn't the problem, but why then do your sales numbers appear to be underperforming and not converting more with the traffic you generate? Even though you successfully drove traffic to the landing page, your sales numbers are a lot lower than you expected. You don't know why, and once again you're left to wonder. You include everything you possibly can on that sales page, but something is definitely still missing and you don't know what it is. The feeling of uncertainty can begin to weigh heavily when you can't figure it out.
In addition to feeling frustrated about your copy and wondering if you've included all the right elements, you may also find yourself struggling to put together your page layout. You know that if your page layout is in the wrong order, visitors won't understand your offer and, therefore, won't respond to your call to action. So you cut your page's length down by half and move the images around, but it still converts poorly. How many more iterations is it going to take before you begin pulling your hair out? The work you put into getting a visitor to this point feels a bit wasted until you find a better solution to increase the conversions.
Struggling With Landing Pages Is Actually Quite Common.
There are many resources about landing page conversions online; however, most search results return the same superficial solutions. Those sources all focus on the same unimportant issues, such as the color of your call to action buttons. It's as if they are arguing about the pronunciation of tuh-MAY-toh or tuh-MAH-toh — it doesn't change the fact that it isn't a vegetable. They don't get into the core of what's really causing the issue of poor conversion.
With so much confusion out there regarding what works best, it's no wonder only about 22% of businesses are actually satisfied with their conversion rates. That means you are part of the 78% of businesses who are in the same place: struggling to find a solution.


Stop Guessing What Gets Conversions: Learn The Industry Standards
Until now, you've only been reading about solutions on the surface. How do you really motivate a visitor to convert? What sparks a person's interest? How can you translate that interest into a winning landing page? The secret is in the sauce, an exquisitely tasting yet very calculated recipe created from tons of data collected from years of trial and error.
Instead of playing a guessing game and going through your own process of trial and error, the solution is to follow industry standards to set yourself up for success. If you learn all of the elements contained on a landing page, how they affect conversions, when they are needed, and especially when they are not, then you will achieve the outcome you've been desiring.
Everything matters — from headlines and benefit statements to social proof and trust seals. And there are different types of landing pages – pages for sales, events, content, thank yous, orders, and lead capture to name a few. Each has its own different set of standards. Unless you follow those standards, which are based on the collective wisdom marketing experts have gathered from years of tests and failures, you will find yourself going through a long process of experimentation on your own before finding success.
To accomplish highly converting landing pages, there is no mysterious secret that you have to unlock. You just need to build your landing pages with great care while following established industry standards.
The Industry Standards for High-Converting Landing Pages Are Backed Up With Proof
As conversion expert Neil Patel says, landing pages are conversation-starters. They introduce visitors to what you offer, spark their interest and convince them to convert. You may want visitors to provide you with their email address or navigate to your online store to make a purchase; a good landing page makes it incredibly clear what you want them to do next.
To get them to take that step, you need to focus on including well-established factors that boost conversions. For example, using the best practice of embedding videos on product pages, your conversion can increase by 86%.
On average you have 8 seconds to make an impression on your page visitor with your headline. It's important to make that impression count, so creating your headline without using industry standards is like trying to fish without a hook.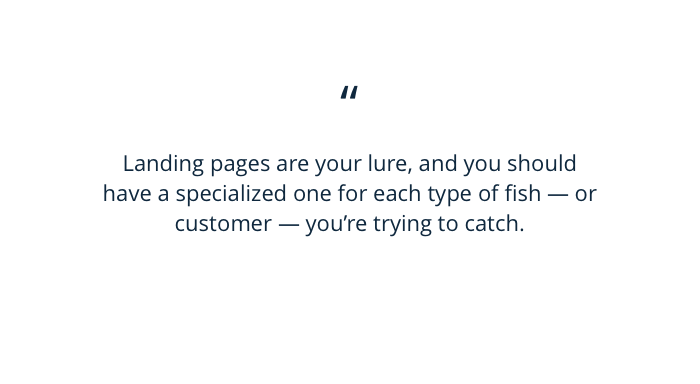 The #1 rule of landing pages, accepted by all experts, is to keep them to one offer per page. By doing this, you can increase your conversions by as much as 266%.
Below are just a few examples of how understanding industry standards will help you to optimize your landing pages to increase your conversion. If you learn these standards, you will be able to:
Write great headlines to capture a visitor's attention long enough to deliver your message and make a connection.

Place well-written benefit statements strategically to increase conversions that lead to more opportunities.

Include elements such as upsells and cross sells on thank you pages to better capitalize on opportunities and increase overall sales revenue.

Declutter your pages to keep your visitors focused on a directed path to conversion, and front load your funnels with more contacts.

Write copy with intention for each element on a page to keep your visitors' attention from the headline's start to the conversion finish.

Include hero images, videos, statistics, and social proof in the appropriate places to build trust in your product and brand.
If you're ready to get started building and optimizing landing pages with higher conversions, check out The Landing Page Optimization Checklist.
---
---