If you think of your marketing as the front door to your business, your lead magnet is your neon "open" sign that invites potential customers in.
A tried-and-true way to attract leads, lead magnets are irresistable free offers that serve to pull in and automatically qualify new prospects. In exchange, your lead provides you with their email address – allowing you to share more about your company and your product over time to nurture them into a purchase.
Lead magnets are also natural ways to begin qualifying leads; because your lead magnet tangentially relates to your product, anyone who is interested in your lead magnet is also likely to be interested in your product. This also means that the average time from opt-in to purchase will be significantly shorter than if they had come into your sales cycle without a lead magnet.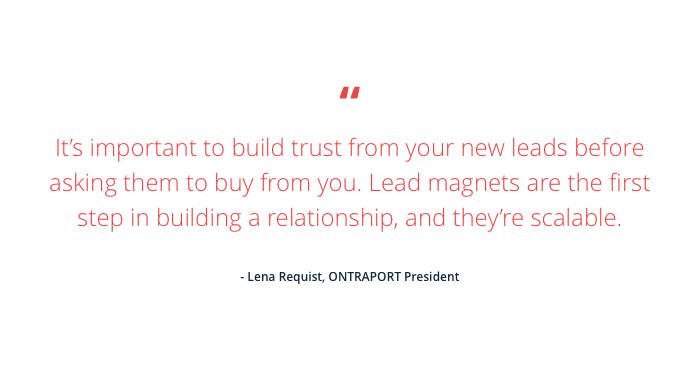 How Lead Magnet Campaigns Work
In content marketing, lead magnets come in the form of a piece of content, such as an ebook, webinar or video, that covers a topic related to your product or industry. For example, a makeup artist might offer a video tutorial on how to apply eyeshadow, or a social media consultant might offer a guide to taking Instagram photos.
The idea is to provide content that's so valuable that your lead will be shocked you provided it for free, furthering their interest in you and enhancing their perception of you as an authority in your industry.
Delivering your lead magnet is the first step in your new relationship. You'll build your new lead's trust and confidence in your brand over time by continuing to provide free, useful, relevant content. By doing so, you're both keeping your brand top-of-mind and increasing your chances of making a sale. In fact, nurtured leads make 47% larger purchases than non-nurtured leads.
Here's how to get started with your own lead magnet campaign:
1. Choose and Create Your Content
The first step to setting up an effective lead magnet campaign is coming up with content that's relevant to your audience's interests, problems and needs. This content should be consumable in less than an hour and make an immediate difference for the person who consumed it.
The free content can come in many forms, including:
Ebooks or guides

Webinars

Quotes and consultations

Trials

First purchase discounts

Quizzes and surveys

Podcasts

Video lessons
2. Map Out Your Campaign
With your free content ready, you can now begin to map out your entire campaign to draw attention to it, deliver it, and follow up.
An effective lead magnet campaign involves:
A variety of channels for promoting your lead magnet

A landing page and opt-in form where interested prospects learn more and sign up to receive that lead magnet

Delivery of the lead magnet, typically via email if it's a content download

Follow-up emails over time including bonus content related to the initial lead magnet and adding them to your weekly or monthly email newsletter list

A final step that moves the lead to an additional follow-up funnel that promotes your entry-level offer
We'll go through each piece in depth in the following sections.
3. Attract Leads to Your Free Content
The first piece of your lead magnet campaign is to attract leads to your landing page and have them submit a form with their email address. To attract them to your landing page, you can employ a variety of marketing tactics including:
Ads on Facebook or Google

Social media posts

Pop-up forms on blog articles

Links from blog articles or other content pieces

Links from email funnels
Once your leads have clicked on any of those ads or links and visited your landing page, they're a part of your lead magnet campaign and, therefore, will be sent down a targeted, automated path through your funnel.
4. Trade Value for Contact Info
When presenting prospects with your lead magnet offer, it's important to make sure your landing pages and opt-in forms properly communicate the value you're offering to them. In the example below, the opt-in page concisely includes:
A headline that promises a solution to your contacts' pain

A brief explanation of the content they're about to opt in for

Several feature-benefit statements that prove your content's value

A relevant quote or testimonial
To seal the deal, keep your opt-in form short and sweet by asking for just your leads' first name, email address and the answer to one qualifying question upfront. This allows you to collect enough information to properly segment your new leads without deterring them with a long list of time-consuming form fields.
5. Deliver the Goods
Once leads opt in for your lead magnet, you can use a marketing automation platform such as ONTRAPORT to automatically send the lead an email that consists of your lead magnet download link.
In your delivery email, you'll want to write a subject line that accurately reflects the contents of the email. For example, if you run a beauty blog your subject lines could be "Your Guide to Spring 2017 Makeup is here" or "Here's your free tutorial on balayage hair color."
Keep the delivery email short and to the point, with the focal point being the "download" button.
6. Segment Your New Contacts
When a lead visits your landing page and opts in to your lead magnet, you automatically learn that they're interested in the topic you've advertised to them. Let's say you run a membership site that trains hair stylists and makeup artists on new techniques. A lead who opts in for your free hair coloring tutorial is obviously interested in hair, while a lead who downloads your lead magnet on spring makeup trends is into makeup.
By setting up a tag in your marketing automation platform to automatically sort your new contacts according to their interests, you're doing yourself and your leads a favor. Once you know where their interests lie, you have the unique opportunity to provide them with even more content they'll love until you ultimately show them enough value that they purchase a subscription to your membership site.
7. Use Value to Stay Top-of-Mind
People like to hold onto things they find value in, and brands are no exception. If you work your way into your leads' minds as a valuable resource, they'll keep coming back to you for more. This is where bonus content is your best friend.
Create at least three additional relevant pieces of content, such as your blog articles, and send them once a week to your new contacts with your automation platform. Did they love the hair coloring tutorial? Wait until they see your bonus content on the latest trends in hair color.
In the meantime, you'll also add your new contacts to your weekly or monthly newsletter where you'll share your most recent blog articles or other news.
Final Thoughts: Keep the Relationship Going
Your relationship-building doesn't end when your lead magnet funnel does. Just like your personal relationships, leads need nurturing over time.
Once your leads have opted in for your lead magnet and received your bonus emails, you can move them to the next phase of the customer lifecycle — conversion — to entice them to purchase an entry-level, low-cost product, service or piece of content. The goal is to continue to provide value and gain their trust until they become a customer of your core product.
---
---