Whether it's your weekly email from Lululemon with the latest workout gear or a monthly recap from your business coaching hero, it's likely that you have a few email newsletters you subscribe to and enjoy reading every week.
In an interview with Parse.ly, a representative from The New York Times said that their newsletter readers are twice as likely to become paid subscribers as those who don't get newsletters. Newsletters are a great way for businesses to stay top-of-mind with clients who have shown interest in their product — and you can implement one in your business too.
Why Invest in Newsletter Campaigns?
Marketing through newsletters is a strategic way to increase touch points and build relationships with your contacts.  Online correspondence is a powerful tool and, according to Agency Analytics, a leader in internet marketing analytics, "People tend to check their email more frequently than they do social media." Unlike social media posts that disappear over time, newsletters sit in your contacts' inboxes waiting to be opened.
Content marketing newsletters are a win-win. You get clicks, views and overall boosted performance, and your contacts get relevant and helpful information delivered right to their inbox.
Putting together a successful newsletter campaign, however, isn't as easy as throwing together some content and pressing send. You've also got the responsibility of making sure each message is strategic and provides sufficient value. Every message should go through an iterative testing process and be sent out to subscribers with impeccable timing. Here are the steps to creating an effective newsletter campaign: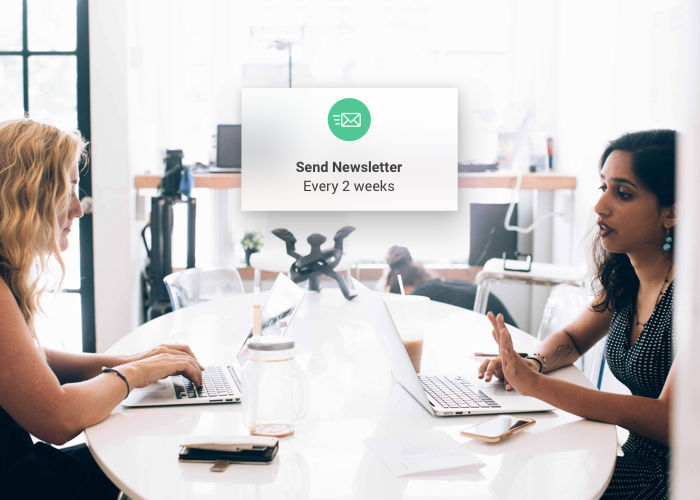 Plan Send Frequency Around Your Content
When determining the frequency of your newsletter, consider how much content your brand produces and news it has to share. With multiple releases per week, it's worth your time to use a weekly newsletter to get eyes on it. If you're not, a monthly newsletter might be a better fit.
To take advantage of the lead nurturing benefits of newsletters and have the resources to do so, you can work both a weekly and monthly newsletter into your strategy. For example, let's say you're a lifestyle coach and you create two new videos and articles per week. You could send your newest content in a newsletter every Monday and, at the beginning of each month, send an email with only your top-performing pieces of content from the previous month.
Word to the wise: Keep promotional content in your newsletters to a minimum. The more you stick to valuable content for subscribers, the more likely they are to open your emails.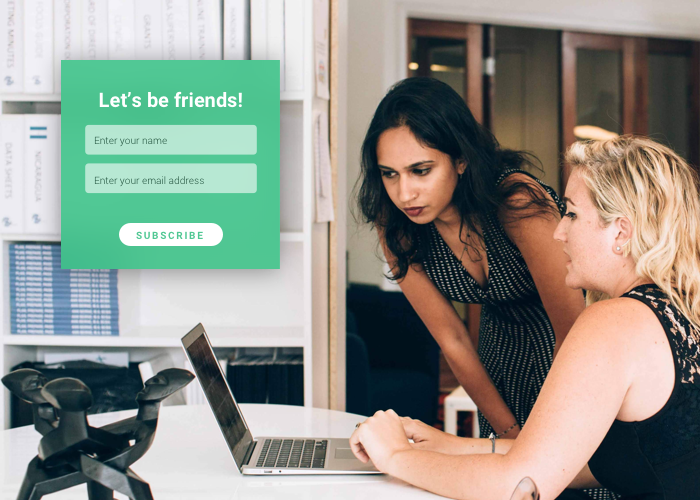 Build Your Newsletter Subscriber List
According to Forrester Research, "Companies that excel at lead nurturing generate 50% more leads at 33% lower cost." Your newsletter campaign's success is scalable, so constantly growing your subscriber list is a great way to bring in more sales over time. There are many effective ways to do this, including:
Adding Opt-in forms to your site's pages
Setting up Pop-ups to display on exit intent or after spending a certain amount of time on a page
Writing social media posts that promote subscribing to your newsletter
Welcome and Thank New Subscribers
As subscribers opt in for your newsletter, let them know their sign-up was successful with a welcome email that thanks them for subscribing and introduces them to your brand.
This email is a one-time message with short copy that builds trust and shows your subscribers not only that they've been added to your campaign, but that you're glad they've joined your community.
Pick a Consistent Date and Time
To create a sense of consistency for both you and your list, it's important to find a specific day of the week and time of day when your newsletter arrives in your subscribers' inboxes. Because the best send time can differ depending on your audience, industry and type of content, try split testing until you find a winning combination. Split testing is a process where you pit two versions of your newsletter against one another — sending one version to one portion of your audience and a different version to another — to see which performs better.
Then, to keep the time consistent across your list, use your email service provider system to set a send time specific to the contacts' time zones, so that a message scheduled at 11 A.M. PT, for example, doesn't deliver at 1 P.M. ET to your New York subscribers.
Once you find a date and time combination that works, you can use it as a control for future copy and design split testing. To have an accurate measure of how well your email copy and design are doing, you should be able to rule out date and time as a factor.
Split Test and Optimize the Content You Deliver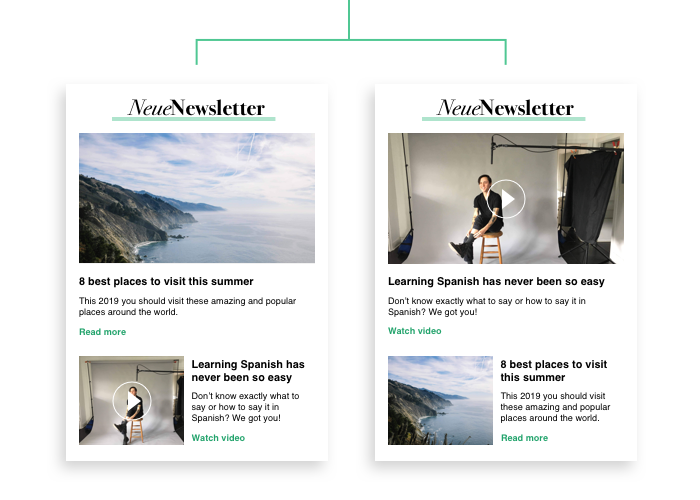 Above, a short video was split tested against a static image.
Keep your subscribers' interest over time by personalizing your copy and design.
To optimize your content and discover what works and what doesn't with your email copy, try split testing. Here are some things you can split test in your emails:
Subject lines
Images
Body copy
Call to action
Layout
"From" name
Send time
Set Tracking Goals That Encourage Success
Split testing isn't complete without a way to measure success. Set SMART (specific, measurable, achievable, relevant and time-time bound) goals that are in alignment with your overall business goals. If you keep these in mind when looking at your data, you'll better understand the effectiveness of your newsletter campaign.
To make sure you're creating SMART goals, ask yourself:
Why am I sending out these newsletter emails in the first place?
What do I hope to gain from them?
If I don't achieve that goal with these emails, are they still a success?
Here are a few metrics you may want to use:
| Business Goal | Measurable Parameter |
| --- | --- |
| Establish awareness | Views and opens |
| Increase engagement | Track link clicks |
| Increase engagement | Conversions |
Chances are, your ultimate goal is to generate sales and revenue with your newsletter campaign. If that's the case, you'll want to
focus on conversions
rather than email opens or clicks.
With your email tracking tool, you can check your campaign numbers. As you learn which types of copy and design perform better than others, you can optimize future messages.
Maintain Your Newsletter Campaigns Over Time
To avoid your newsletter getting sidelined to the spam box and losing subscribers, do regular maintenance on your campaign. In addition to testing and optimizing your emails, ensure they're getting into active inboxes. Over time, your subscribers may shut down or abandon their email addresses, making your messages undeliverable. If you have too many undeliverable emails, ISPs will start treating you as if you're a spammer, and your newsletter will be diverted. This creates a self-perpetuating cycle of falling deliverability and open rates and triggering Spam filters. It may be helpful to use an email verification service which can tell you whether your subscribers' email addresses are accurate, valid, deliverable and safe-to-send. Maintaining the hygiene of your subscriber list in this way is known as cleaning.
Another way to maintain your newsletter is by trimming contacts from your list who haven't recently engaged with your messages. By scheduling a list cleaning once or twice a year, your emails will be sent to a curated list of interested contacts who are more likely to have active addresses.
Launch an effective newsletter campaign by following these steps:
Specify the frequency of your newsletter delivery
Plan the ways contacts can be added to your list
Send a one-time confirmation email to new subscribers
Set a consistent send time that is sensitive to the contacts' time zones
Split test each message to optimize your campaign over time
Set SMART goals that result in success
Clean your subscriber list to ensure your newsletter lands in your subscribers' inboxes
Once you add these seven best practices to your newsletter strategy, you'll be able to plan and map your weekly or monthly newsletter campaign and get started.
Here's an idea of what your completed campaign map will look like: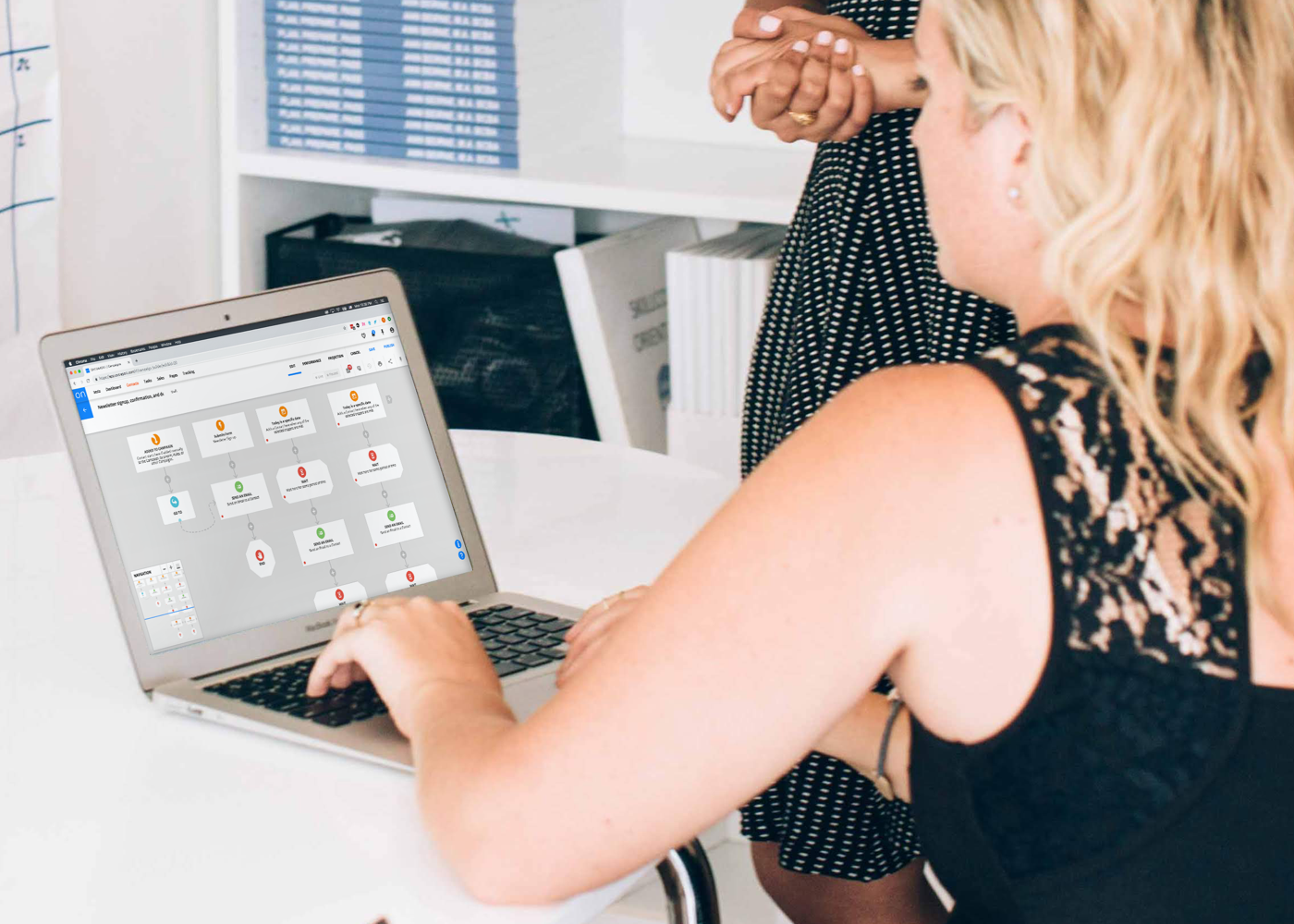 If you have an Ontraport account, you can find a templated version of this campaign called "Newsletter signup, confirmation and delivery" and fill in each step. It's that simple, and we're always here if you need help with your email newsletter campaign!
---
---