What are systems?
Ontraport Systems are very similar to collections, but they help you stay organized in a different way.
While collections are like folders on your computer where you store one type of information, systems are really more like a suitcase that's packed for a specific trip.
Different trips require different items — a swimsuit and sunblock for your Hawaiian getaway or a blazer and laptop for your business trip — just like every business and marketing process requires different assets to get the job done.
Say you're "packing a bag" for your monthly email newsletter. Great assets to include are your newsletter signup form, your newsletter emails and an automation map to send your readers. You wouldn't pack your sales page or lead scoring automation because those aren't assets you need on your newsletter "trip."
Systems keep all of your related emails, pages, forms, automation maps, etc. in one place. When you want to work on your email newsletter, you can just click into your "Email Newsletter" system. From there you can check your newsletter stats, edit your automation, write your next newsletter, etc. The individual assets for each system also live in various collections, such as Automations, Messages, etc, but the easiest way to view, edit and organize them is through systems.
You can create systems in two ways:
From scratch
Using a Setup Wizard to customize a prebuilt system
---
Setup Wizards for prebuilt systems
Setting up all your important business processes can take a lot of time and effort — especially if you're a new user trying to figure out where to start.
But if you use Ontraport's Setup Wizards, you don't have to learn how to use all the tools before you can get started. You don't have to worry about making beginners' mistakes or missing out on awesome features because every prebuilt system is created by a team of professional writers, designers and automation builders.
Each step of a Setup Wizard customizes one piece of a prebuilt system. This creates a unique version of the prebuilt system made specifically for your business. When you complete all of the steps in a Setup Wizard, your whole — customized — system will be installed for you.
You can find Setup Wizards for all of the most common business processes such as lead capture, long-term lead nurture, long-form sales pages, membership site setup, and much more!
Recommended systems
All the prebuilt systems are available in your Ontraport account. Just click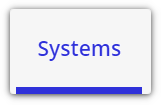 on your top navigation bar and then click

.
Check out the "Recommended" section to see systems picked for you based on your account activity. Or click
to search all of the prebuilt systems for the one you want.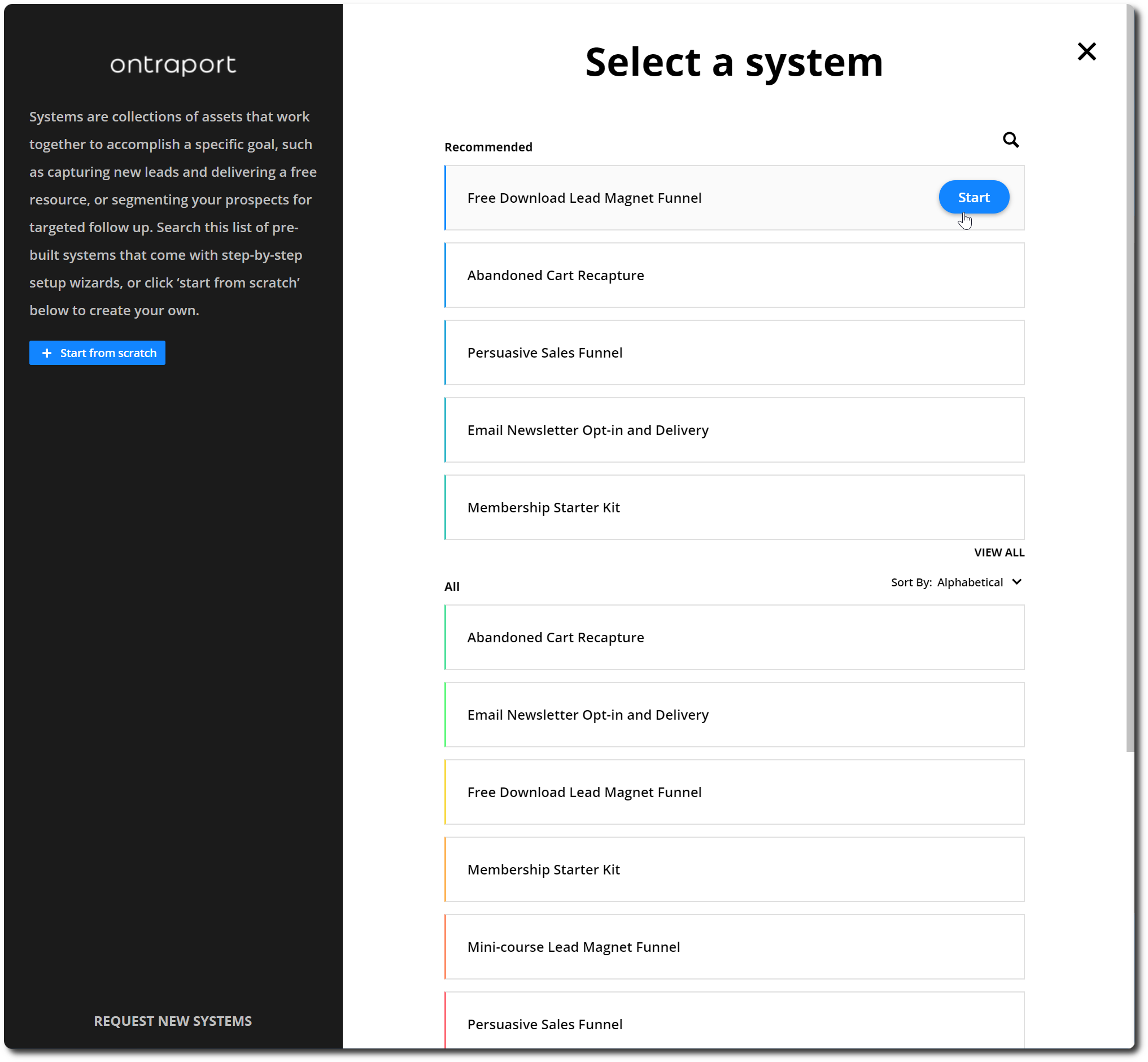 ---
Using Setup Wizards
To install a system, just hover over it and click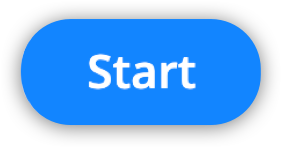 . You'll be brought to that system's overview screen where you can take a look at the system and see if you want to start the Setup Wizard.
You can also see the steps you'll need to complete to finish the Setup Wizard and the assets that come along with it.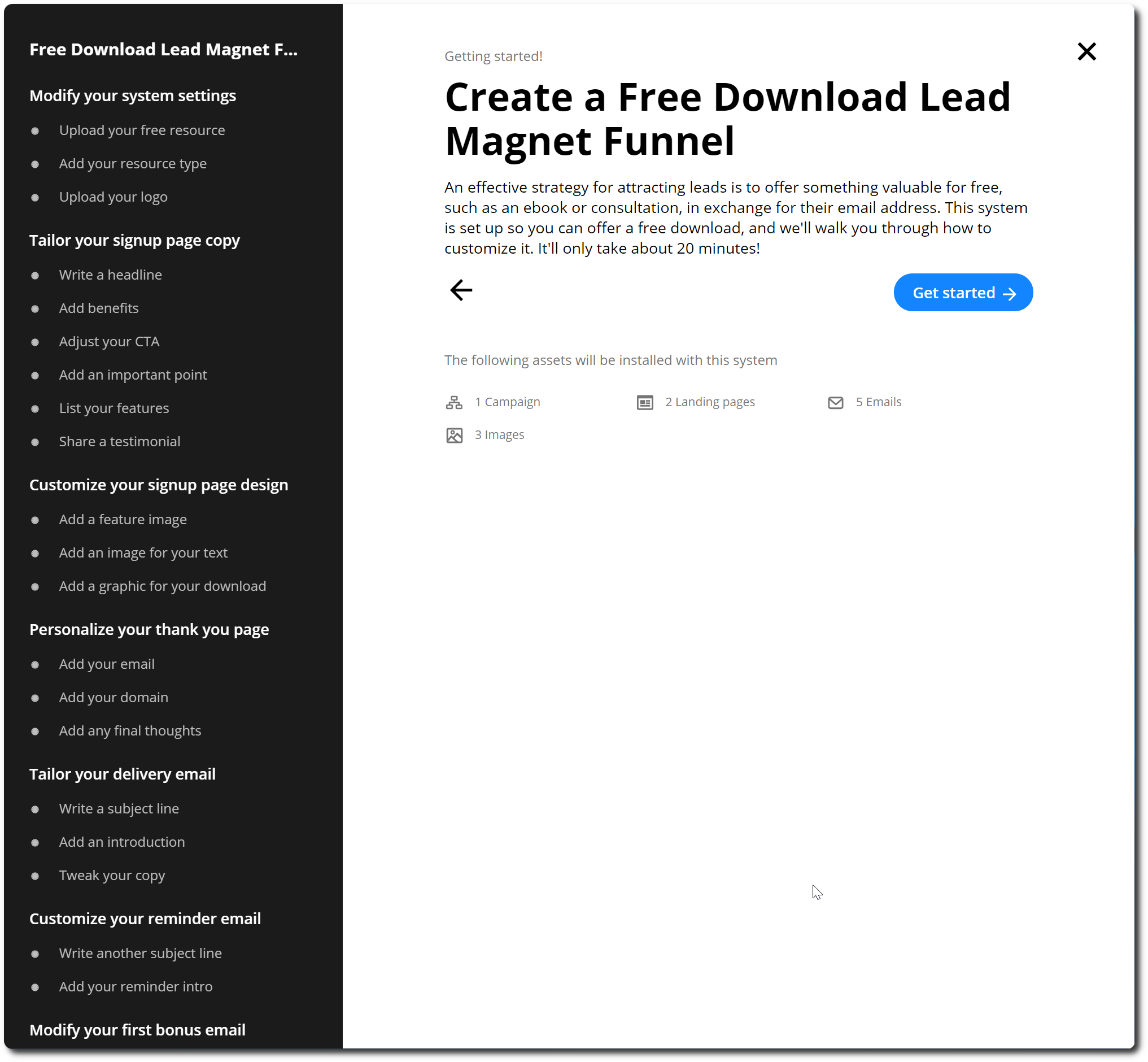 If this system looks good to you, just click

.
Navigating the Setup Wizards
The Setup Wizards customize your system's design and copy one step at a time. Each step guides you through what you need to do and gives you tips on making the most out of your personalization.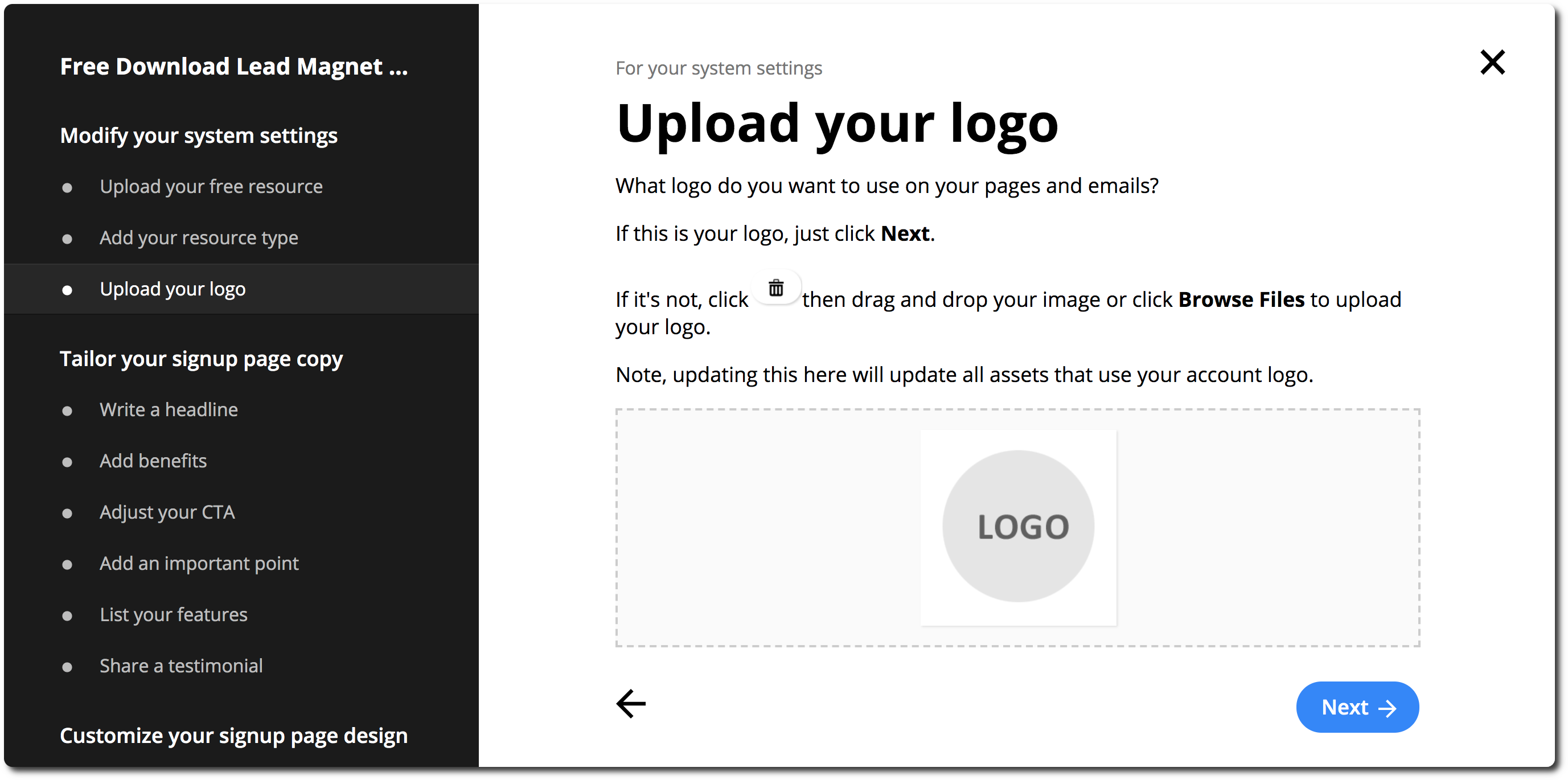 Click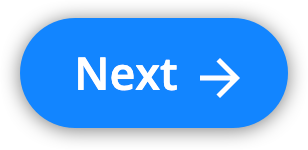 to move on to the next step and click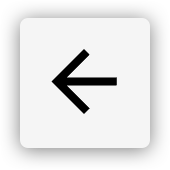 to return to the last step. If you're not ready to complete a step, you can always skip it for the moment and come back when you are.
You can also click on the steps on the left side of your screen to jump to any step in the Setup Wizard.
You'll always know where you left off because each completed step has a checkmark next to it.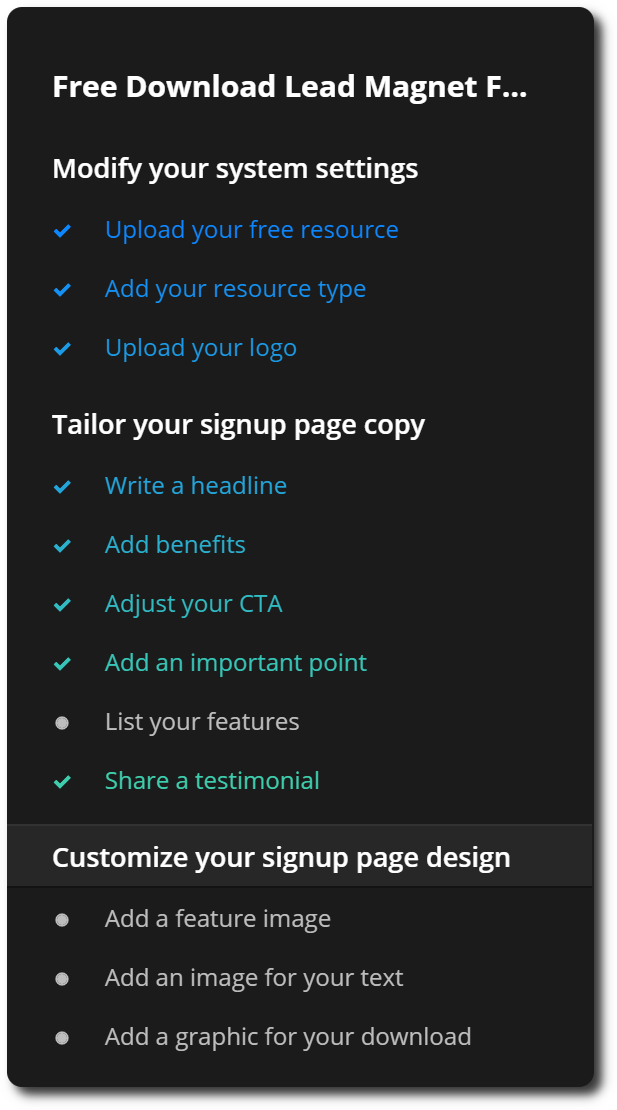 Exiting the Setup Wizard
Your progress is saved automatically as you complete each step, so don't worry about losing your work. If you need to take a break, just click X in the top right corner to exit the Setup Wizard.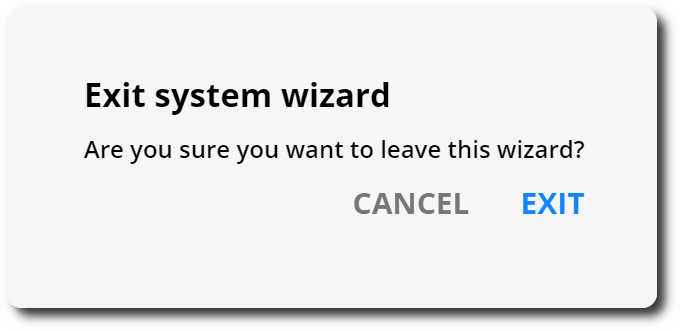 Publishing your system
The last step of all Setup Wizards is the publishing instructions. This is a great place to stop and review your system before you install it. If you're ready to go, all you need to do is click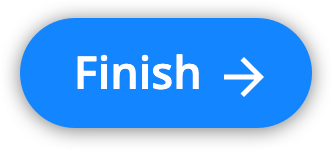 .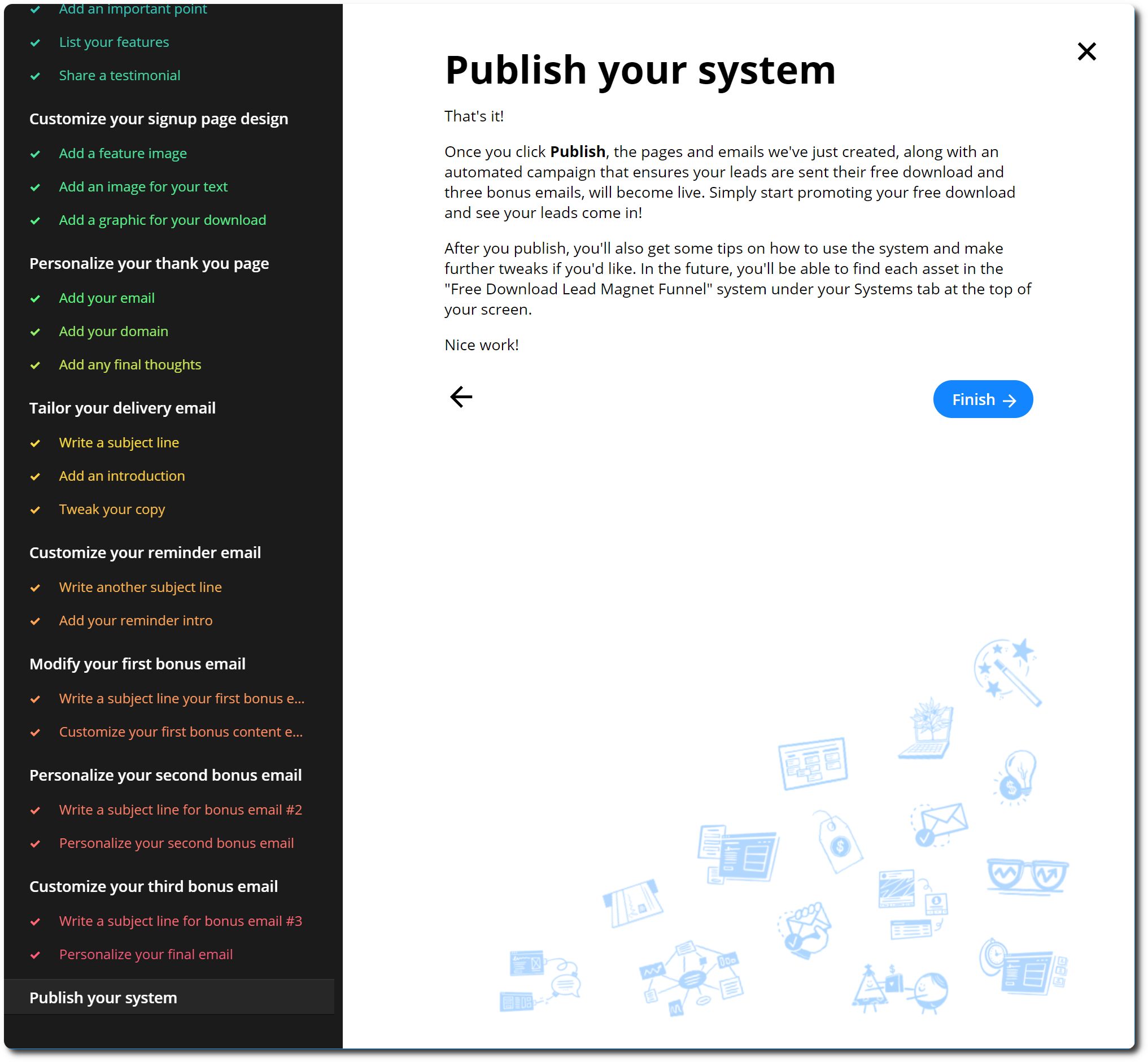 Then your system will begin to install. When it's finished, just click

to check it out.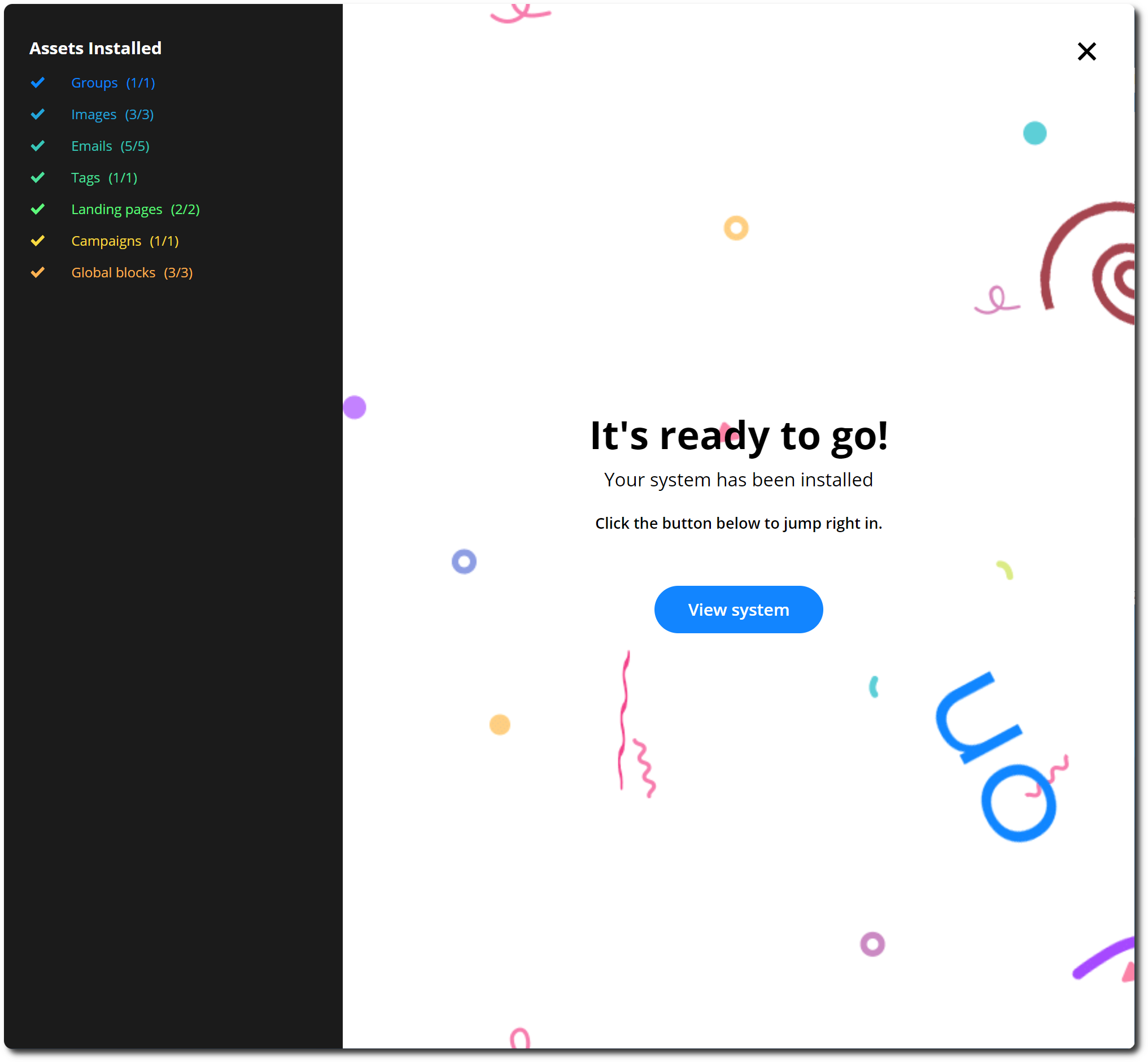 ---
Systems records
Your system records are made of up three tabs:
1. Overview
2. Notes
3. Settings
1. Overview
From the overview page, you can see all of the assets you just set up in their own mini-collections. Just click on the name of any of your assets to edit them — you can keep customizing your systems after you're done with the Setup Wizard!
If you want to keep building your system, click

and pick an existing asset or create a new one.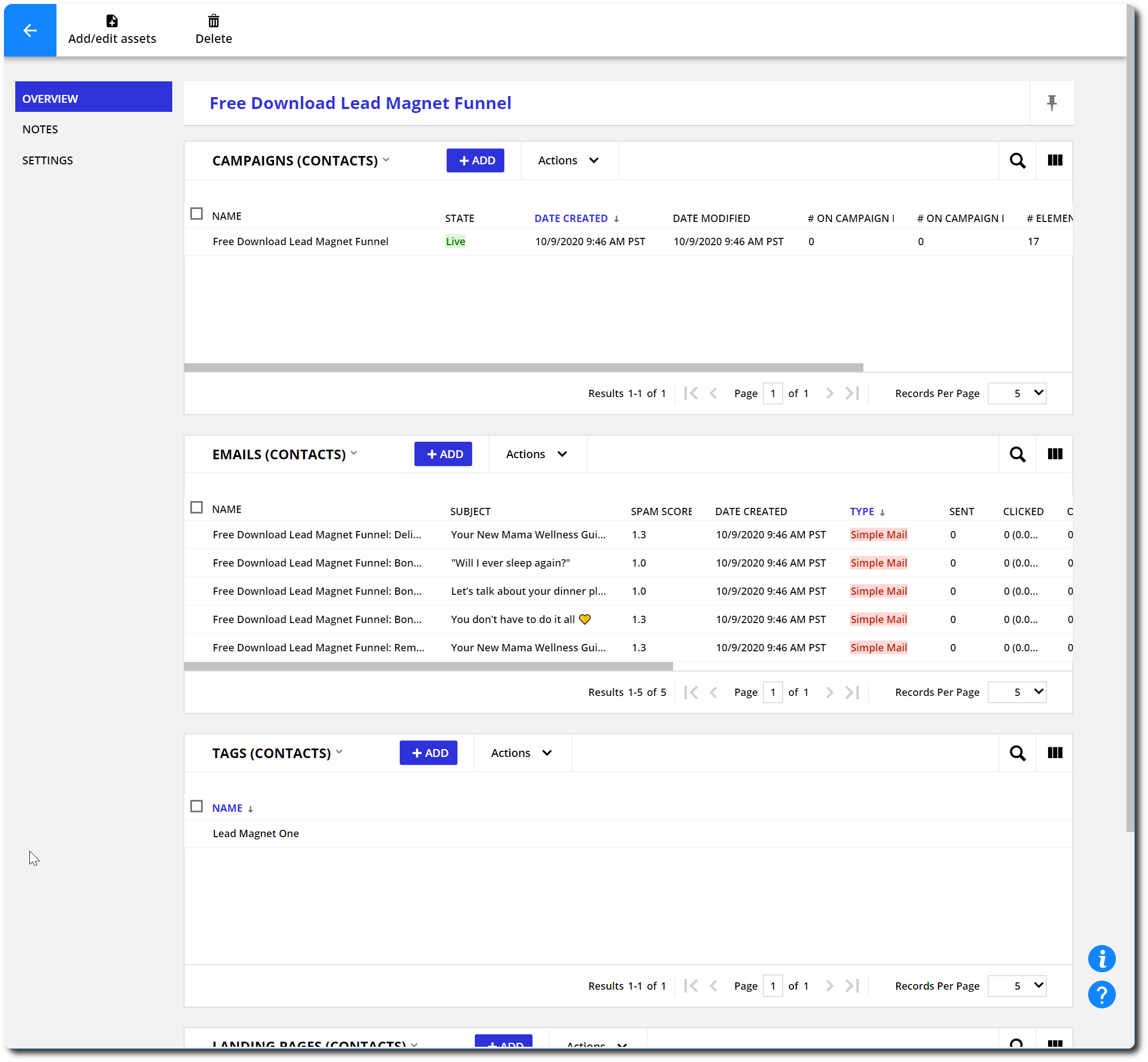 2. Notes
This is the page you'll see as soon as you complete a Setup Wizard. This page tells you more about the strategy of your system, outlines any "next steps," explains how to monitor your system and how to keep customizing it.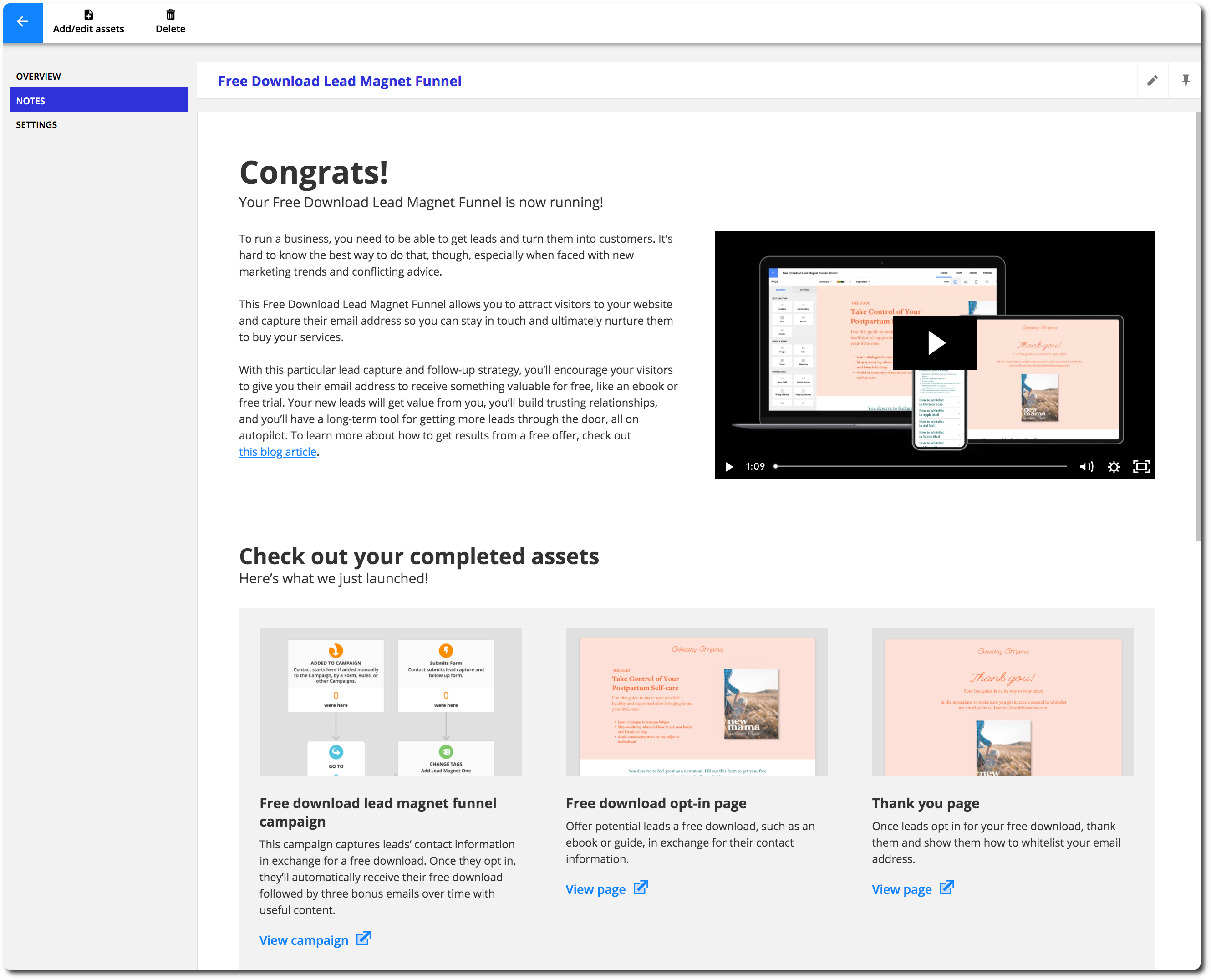 3. Settings
Your system's settings include:
Name
Description
Category
System tags
Edit sections settings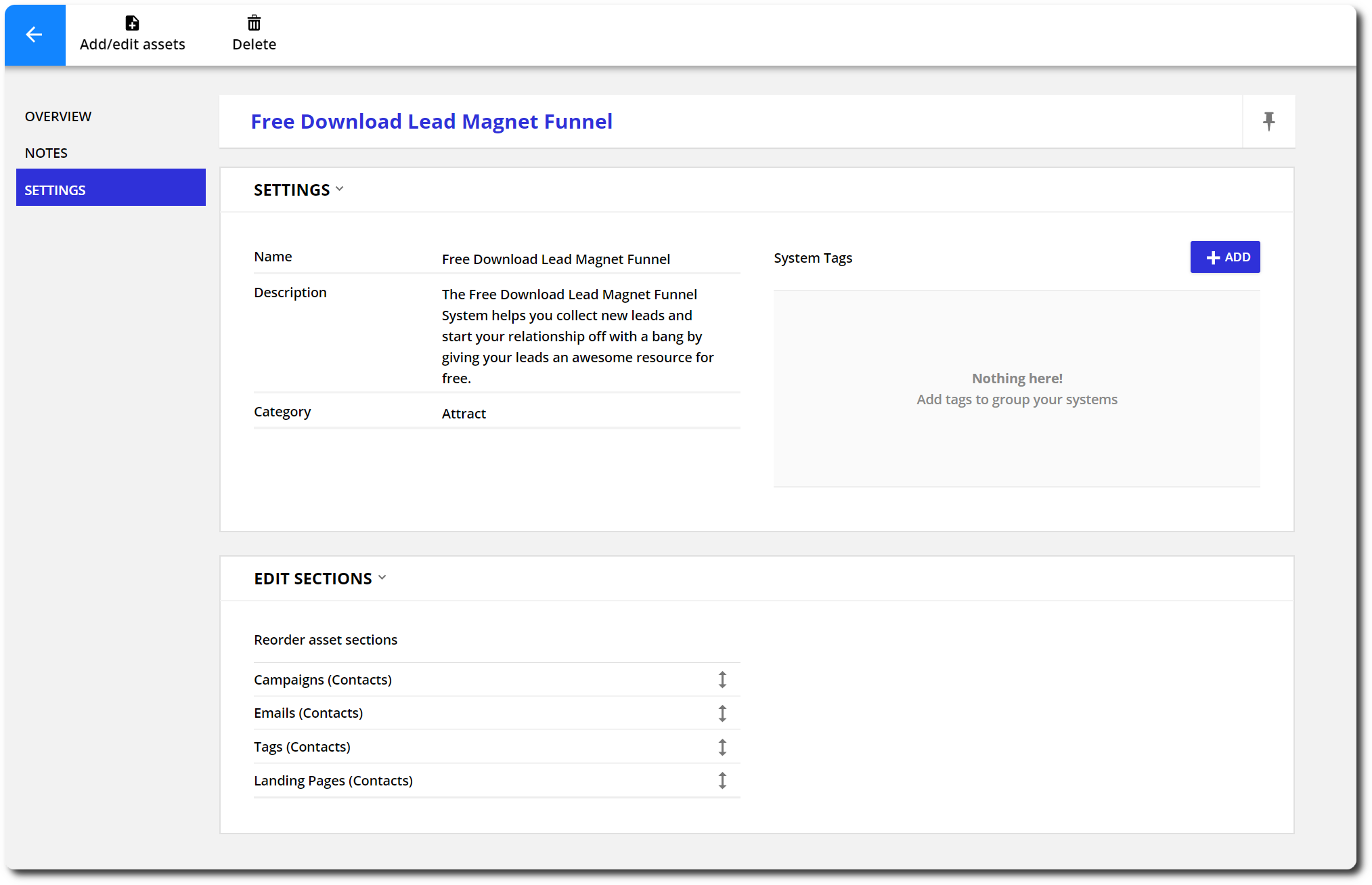 To add system tags
System tags are like contact tags, and you can use them the same way to label your systems. This is useful if you want to create groups in your Systems collection, such as a "lead collection" group for all your systems that bring in new leads.
Here's how:
Just click

from your system tags section.
If you want to add contact tags you can do that from your overview page.
To edit your asset sections
You can change the order of the sections that appear on your overview page, from the bottom "Edit Sections" area.
Here's how:
Click and drag next to the section you want to move and arrange your sections in an order you'd like.
---
Systems collection
The Systems collection is just like other collections in your account, with a special addition. Your Systems collection has a "Progress" column that shows you how close you are to completing each of your Setup Wizards.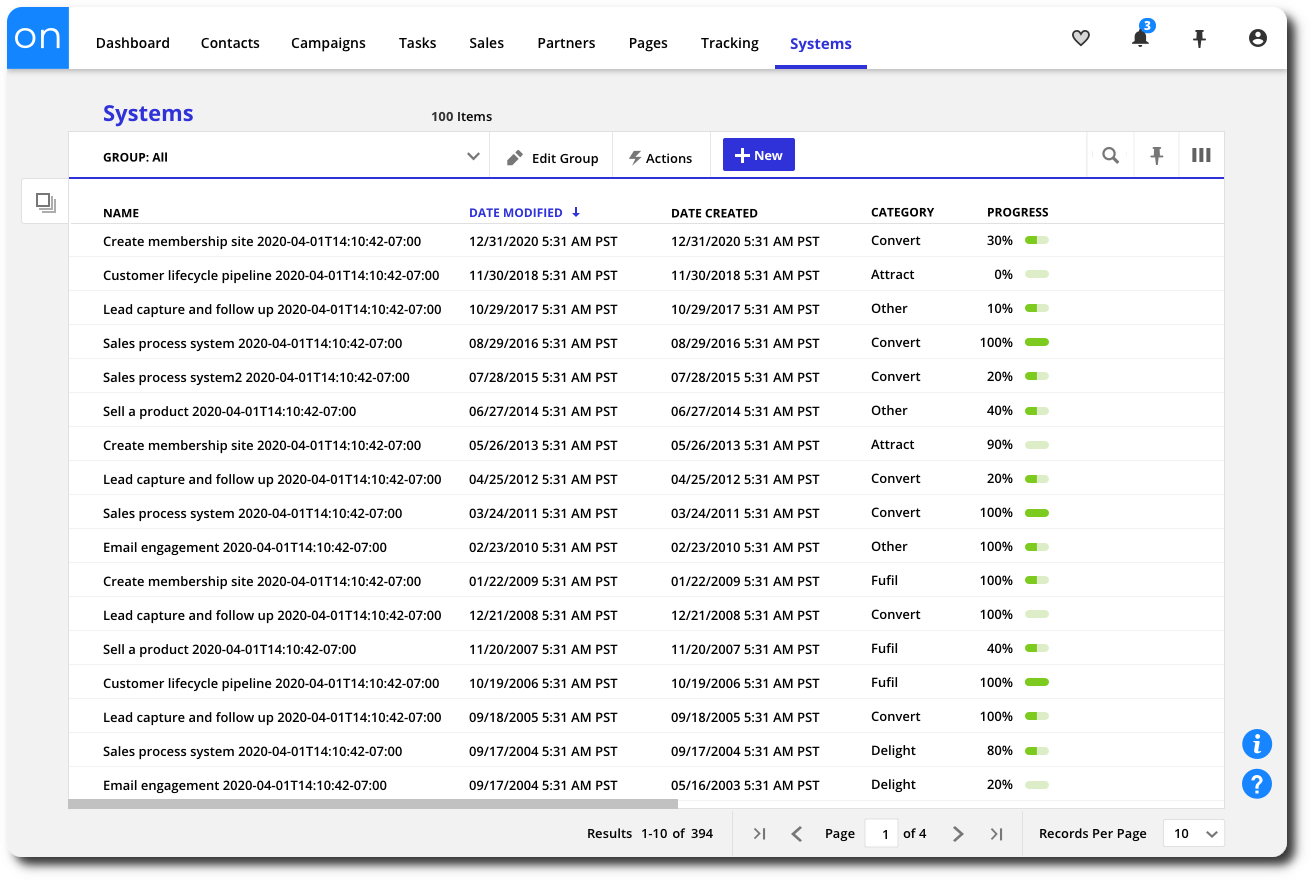 When you click on an incomplete system, you'll be brought to the Setup Wizard to finish it up.
When you click on a system that has been completed — progress is 100% — then you'll go to your system record.
---
Systems activity
---
Continue the Fundamentals Course