Ontraport email allows you to create emails either from scratch or by choosing from our library of professionally designed templates. This article will show you how to edit and customize your OntraMail emails.
OntraMail emails are ideal for creating marketing and promotional emails. You can customize your email's design with a variety of colors, fonts and styling options. And they are mobile responsive, so they'll appear correctly on any device.
You have four email editors in your account:
OntraMail
Quick Email
Simple Mail
Raw HTML Email
This article is focused on editing OntraMail emails. Learn all about the other types of emails in this article.
Table of contents
Add blocks
Move blocks
Edit block spacing
Edit your email's font styles
• Customize your font style
• Customize your text elements
Edit your email's colors
• Select your colors
• Customize your block colors
Edit your email's background
Add merge fields
Insert and edit images
• Insert images
• Edit images
Add video
• Host your video
• Add your video link
Edit mobile styles
• Edit mobile font style
• Edit mobile block spacing
Configure email settings
Add blocks
Blocks are the boxes that make up the layout of your emails. These blocks include elements such as text, images, banners, dividers, merge fields and more. Once you've added a block to the layout, edit it by clicking on the element and then using the settings palette on the left sidebar to customize your design. The OntraMail editor is visual, so you can see your changes as you make them.
There are 17 different types of blocks to choose from. You can also copy blocks from existing messages. Here's how:
Click from the palette on the left.
Or hover over your canvas, and click where you want to add your block.
Click on the category that fits the type of block you want to add, such as "Image." Then select the specific block you want.
If you add a block from your palette, it will be added to the bottom of your email. Check out the instructions below to reorder the blocks in your email.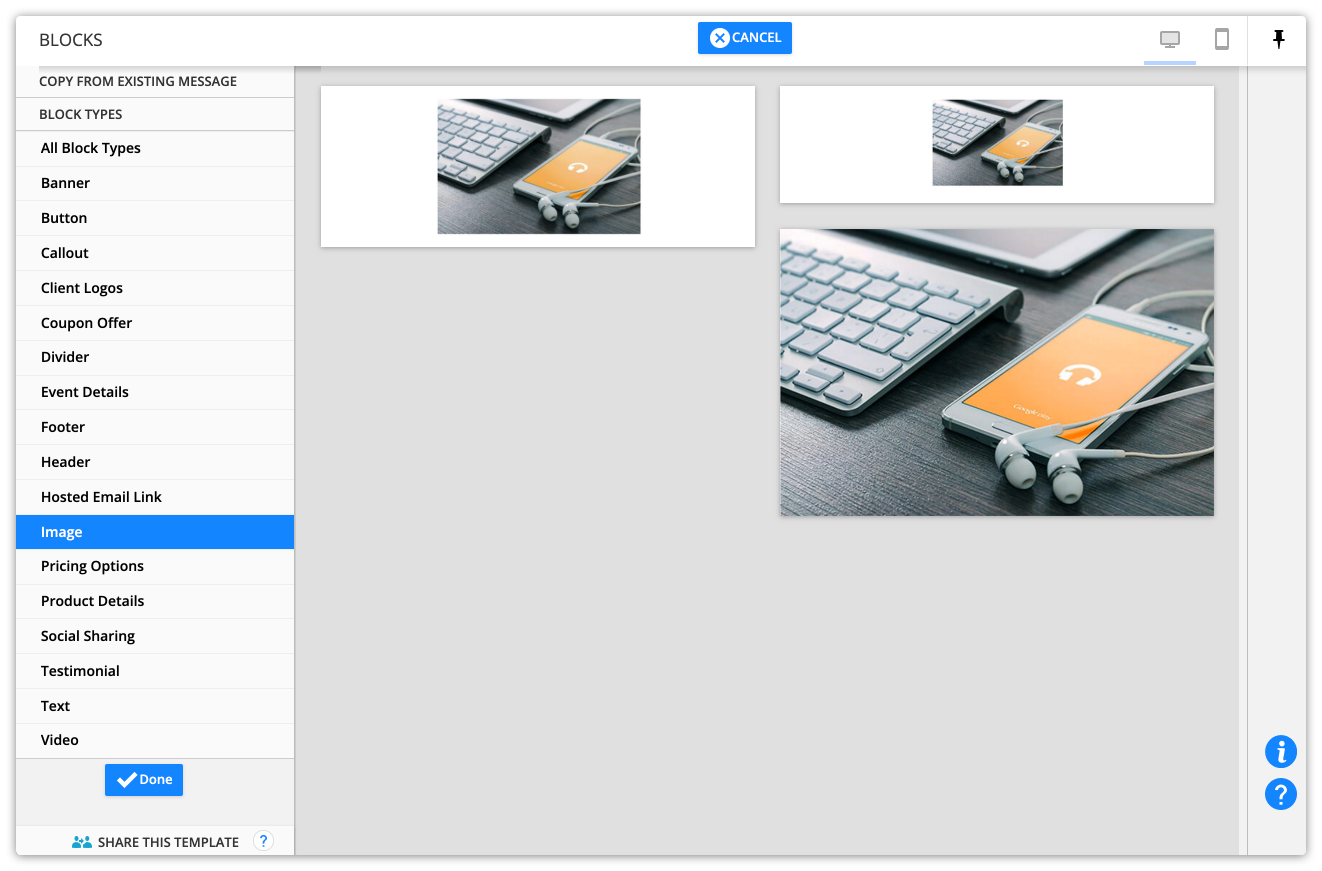 If you'd like to add a block from another email saved in your account, click Copy from existing message and select the email you want to copy a block from.

Then click on the block you want to copy.
Move blocks
Mouseover the block you want to move on your palette.
Click and drag the block to the position you want.