All the information about the contacts in your database, from their name and address to their purchase history, is stored in the contacts' individual contact record. Contact records show fields for all the information, such as First Name or Email Address. You can tailor the fields shown in your contact records to suit your needs using our list of default options or by creating your own custom fields.
The fields you use are much more influential than simply their ability to store information about your contacts: They're often the power behind your automation in Ontraport. The values within fields, such as purchase dates, products purchased, or even the contact's job title, can be used within your automation maps to trigger the appropriate next step for that contact.
There are multiple ways you can gather information to fill in contacts' fields. Most commonly you'll use forms on your landing pages. When contacts fill out the form, the information they enter in the fields automatically goes into their contact record, which triggers any follow-up you've dictated based on that field.
Here's how to create, delete, move and set user permissions for custom fields and how to add and move sections for organizing your fields.
Table of contents
Add fields
Delete fields
Move fields
Add new sections
Move sections
Add permissions
Add a new tab
Default system fields
Unique and required fields
---
Add fields:
Navigate to → Settings → Field Editor.
If you want to create custom fields for other objects, hover over your object's navigation button then select Settings → Field Editor.
On the left, select the tab you'd like to add the field to, then find the section.
Click
.
Name the field.
Create names of your fields with enough information that you recognize it but not so long that it's hard to read in your database.
Select a field type. The field type defines what type of data that field accepts:
Address: Field for a street address
Checkbox: Checkbox for yes and no
Color: Dropdown list of multiple values allowing the selection of one of the values and colors
Country: Dropdown list of countries
Date: Calendar box to select date
Date and Time: Calendar box to select date and clock dial to select time
Dropdown: Dropdown list of multiple values allowing the selection of one of the values
Email: Field for email address
Image: Store images in your records for profile images, product photos, blogs, etc.
List Selection: List of multiple values, allows selection of one or more items
Long Text: Text field for long descriptions
Numeric: Field for whole numbers only

The header for this field's columns can be set up to show total, show average, or show nothing.

Phone: Field for phone numbers
Price: Field for entering a price up to two decimal points

The header for this field's columns can be set up to show total, show average, or show nothing.

Related Object Data: Display a field from a related object's record.

For example, if you want to see a company's description in your contacts' records, you can add that information using a related object data field.

Rich Text: Text field that allows you to edit the styling of your stored text.
SMS: Field for a phone number that can receive SMS messages
State: Contains a list of states and regions
Text: Field for alpha-numeric values such as proper names and serial numbers
URL: Field to store links and add them to pages and messages
Click

.
Delete fields:
Click  next to the field and type DELETE when prompted. Note, when a field is deleted, the data in those fields is deleted from all contact records.
Move fields:
Hover your cursor over the field you want to move, and click .
Drag the field to any section or tab in your field editor.
Add new sections:
Click  Your new section will appear at the very bottom of the tab.
Scroll down to the newly added section. Click UNTITLED to add the name of the section, and click Section Description to add your description (optional).
Move sections:
Click and drag in the upper left corner of the section you want to move.

You can either drag your section to a new order in your current tab, or you can move the section into a new tab.
Add permissions:
Each section in the field editor has a
button where you can create settings for certain roles to be able to view or edit. These permissions allow you to control whether certain users can view or edit the fields within a specific section.
Add a new tab:
On the bottom left of your Field Editor, click .
Replace "UNTITLED" with the name of your tab.
You can click and drag  to reorder tabs as needed.
Default system fields
---
There are several default fields in the "System Information" section of contact and object records. These fields can't be edited or deleted, but they can be used to create groups, identify records and set up conditions in dashboard metrics.
Date Added – This field stores the date the record was created.
Date Modified – This field stores the date and time the record was last modified, and it updates any time your contact's saved information changes.
Last Activity – This field stores the date and time the contact was last active, and it updates every time your contact interacts with your content (for example clicking an email link, visiting a tracked page, logging in to a membership site and submitting a form and more).
Contact or Object ID – a numeric identifier added to each record that is incremented by one for each new record
Unique ID – a unique, random alphanumeric identifier that can be passed through URLs without exposing a contact's email address
Unique and required fields
---
If your account has Deals, Companies or Custom Objects set up, you can also set some fields to be unique and/or required. These advanced field settings give you more control over the values stored in your contact records.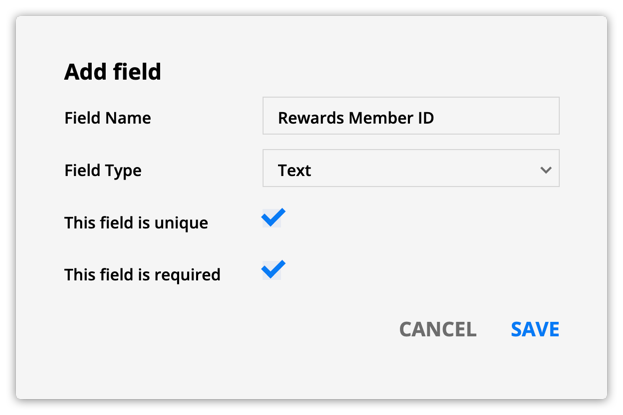 Unique fields: When you select "This field is unique," you ensure the same value can't be saved for that field in any other contact record — every value in this field must be unique. This is useful if you need to give your contacts a custom identification such as rewards member IDs, personal access tokens, permit numbers, etc.
Unique fields cannot be modified through any automation or through group actions.
If you import contacts with the same values in their unique fields, their records will be merged.
Required fields: When you select "This field is required," you ensure that new contacts cannot be created from a form submission unless the required field is filled out. We do not recommend marking any fields required unless you have a specific use case that requires you to do so.
To ensure you can collect new contacts, your required fields must also be marked as required on every opt-in form, order form and API call that creates a new contact record.