SMS text messages are a great alternative to sending email to reach your contacts. You can use them to send discounts, purchase confirmations, appointment reminders, or any other information that you want to get in front of your contacts' eyes immediately. 
You also have the option to include images in your text message marketing for US and Canadian numbers.
This article explains how to implement SMS messaging in your marketing and business processes.
Please note before you begin that the country of the number you are sending from determines the countries you are allowed to send SMS messages to. You can purchase additional numbers in other areas if you need to reach a country out of your home region.
Table of contents
Setting up your SMS number
• Register your sender profile
• Check the status of your registration
• Edit your sender profile
Opting in and out
SMS filtering and blocking
Creating SMS messages in the SMS editor
Adding SMS messages to your automation
Adding automated responses
Sending one-off SMS messages
Viewing and managing one-off SMS messages
Stopping a one-off SMS message
Viewing broadcast stats
SMS number pricing
---
Setting up your SMS number
Click  in the top right, then Administration → SMS → . The first number is free.
Enter a name in the top left. This is just for reference and is not visible to contacts.
Select a country from the drop down menu then enter your area code (optional) → click .
Click the Choose a Number dropdown menu to see the available numbers. Select one.
Click   in the top right.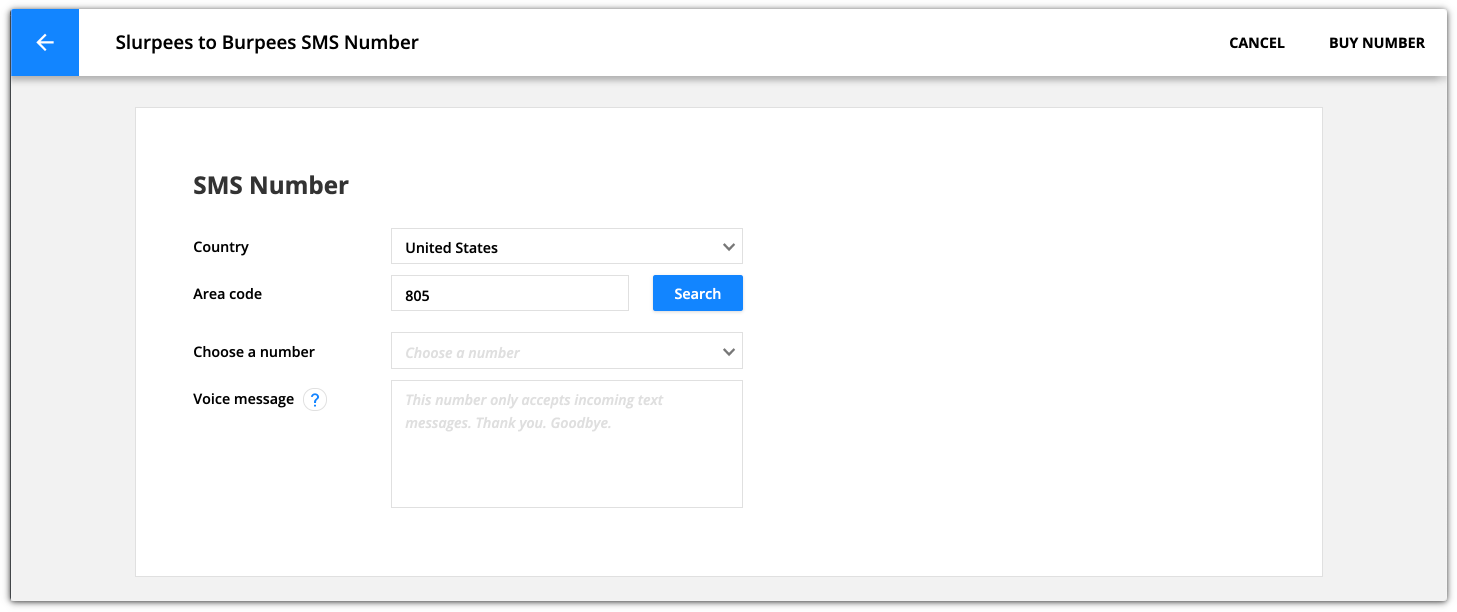 Note, due to Twilio's regulatory compliance updates, users from certain countries — such as Australia, France and Ireland — may receive an error message when they attempt to purchase a number.
If this happens to you, follow the steps below to have our Support team set up your number for you:
To determine what documents you need to submit, go to Twilio's phone number regulations → select your country → scroll down to "mobile numbers" and find your country's required documentation in the "requirements for businesses" section.
Submit a ticket to Support containing all the required documents.
Note to users in New Zealand: Due to local carrier restrictions, Twilio does not support two-way SMS messages from long code numbers. If you want to send SMS messages in New Zealand, you'll need to purchase a dedicated short code number.
---
Register your sender profile
This step is required for accounts located in the US that send more than 3,000 SMS messages per day or use five or more SMS numbers. However, we recommend that all users register their sender profile to avoid spam traps and increase sending speed.
You can register your Twilio sender profile directly from your Ontraport account. Here's how:
Go to → Administration → Data → SMS Sender Profile.
Fill out the fields on the form.
The "Sender Compliance Message" field shows you the message that will be sent to your contacts the first time they receive a message from your number.
You can edit the default message as long as it includes one of the following keywords:

STOP
STOPALL
UNSUBSCRIBE
CANCEL
END
QUIT

The "Sample Message #1" field allows you to include a sample message so the SMS carriers can identify normal traffic and increase your delivery rates.
Click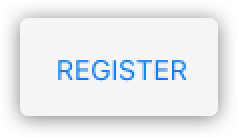 .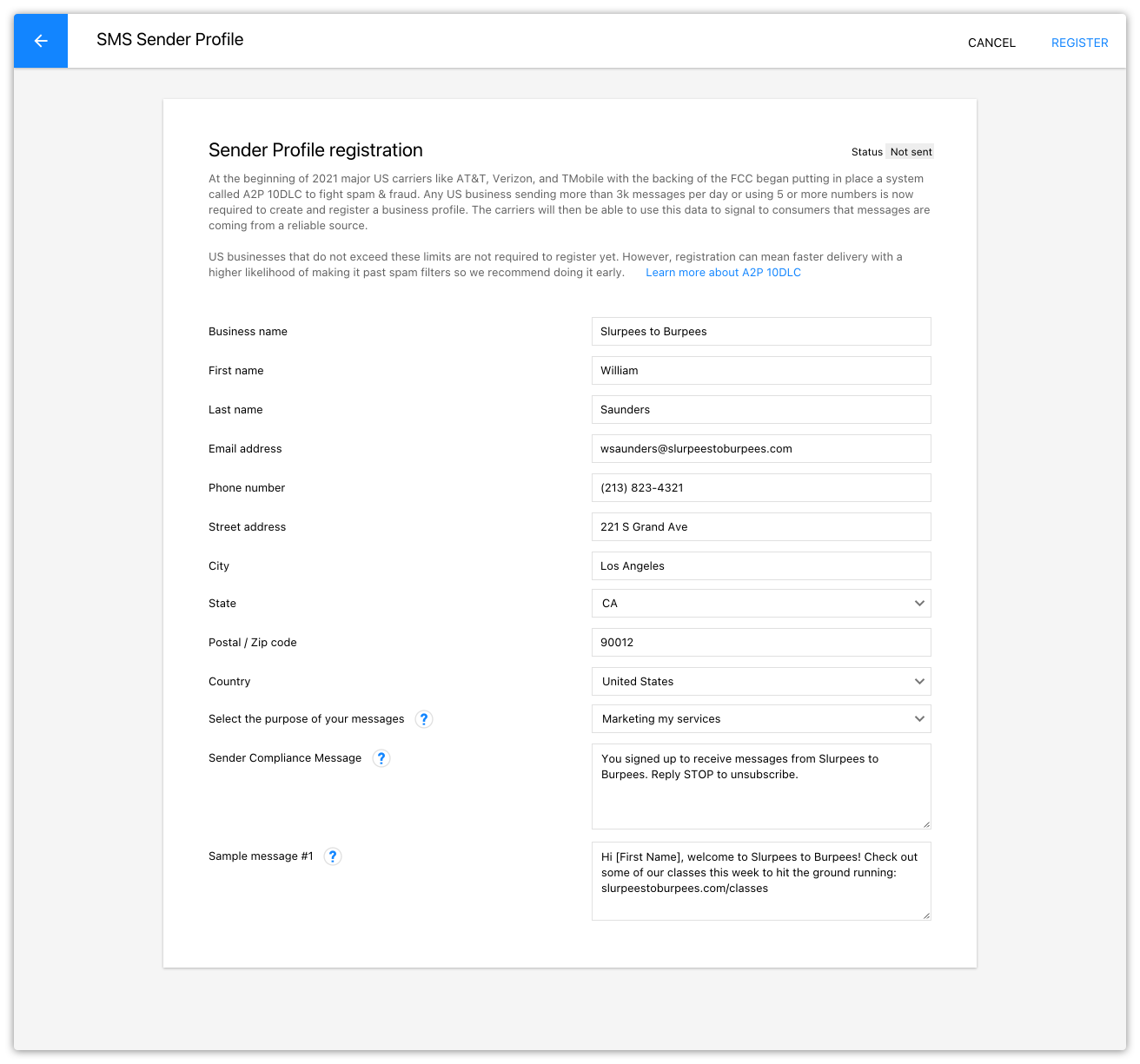 Check the status of your registration
To check your registration form's status, navigate back to your SMS Sender Profile.
Go to → Administration → Data → SMS Sender Profile.
Your status is displayed in the top right corner of your "SMS Sender Profile" page.
There are four possible statuses for your sender profile:
Your registration form hasn't been sent to Twilio yet.
Pending
Your registration form has been sent and is waiting for Twilio's review.
Approved
Your registration form has been approved, and you have access to faster and more reliable SMS delivery.
Rejected
Your registration form was rejected. Twilio will send you an email with more information about the issues with your registration.
Edit your sender profile
Sender profiles can be edited at any time to ensure that you have the most up-to-date business information stored in your profile with Twilio. When you edit an existing sender profile, you'll see all of your previously saved data so you can update it appropriately.
Go to → Administration → Data → SMS Sender Profile.
Make your changes to your registration and click .
Then click on the pop-up to confirm.

---
SMS filtering and blocking
To protect mobile users from fraud, spam, and other unwanted messages, Twilio blocks and filters certain SMS messages with problematic content. They also do this to comply with the rules set by carriers and regulators.
Here's a summary of what will cause Twilio to block the messages you send to your contacts:
High unsubscribe rates
Public URL shorteners (bitly, tinyurl, etc.)
Inappropriate content

Transmitting or storing any content or communications (commercial or otherwise) that are illegal, harmful, unwanted, deceptive, inappropriate, objectionabile, violating others' rights, confirmed to be criminal misinformation or otherwise pose a threat to the public

Harmful code or bots

Transmitting code, files, scripts, agents or programs intended to do harm including viruses or malware and using bots to gain access to use services

Hate speech

Use of the services by a hate group, content or communications that originate from a hate group or sending exploitative, abusive or hate speech
Note, you will still be charged for filtered or blocked messages.
---
Opting in and out
Your contacts must opt in to receive SMS text messages either by filling out a form with their SMS number or by initiating communication by texting your Ontraport SMS number.
Note, if you would like to opt in contacts through the API or import a list of contacts who have already opted in, please contact Support.
Leads can opt in to your email and SMS marketing messages via text. This is a great way to collect leads from live events. At a minimum, they need to send you their email address, but you can also collect their names. Here are the three formats your leads can use to opt in:
mscott@ontraport.com
Melissa mscott@ontraport.com
Melissa Scott mscott@ontraport.com

To opt out of receiving bulk SMS messages, contacts can text any of these words: stop, unsubscribe, cancel, quit.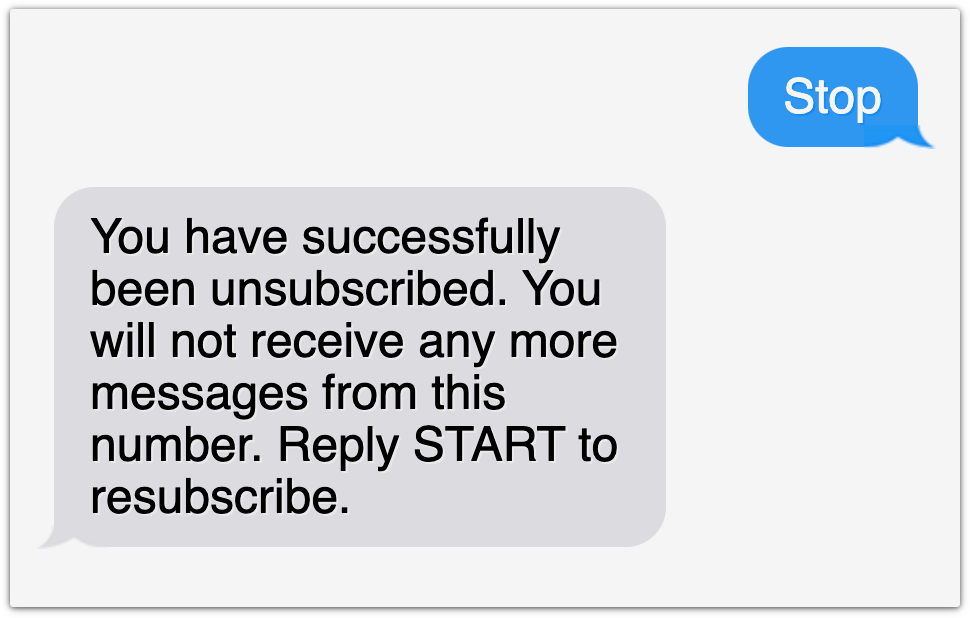 ---
Creating SMS messages in the SMS editor
To create an SMS message, go to  → Messages →→ SMS.
Give your message a title so it will be easy to find when adding it to an automation map.
Type your SMS message. You can use merge fields, but be careful of going over the 160 character limit.

If you use emojis in your message, the character limit will decrease to 67.
Longer messages — up to 1,600-characters — will be broken up and sent as multiple 160-character texts and you will be charged for each message.
Any characters over 1,600 will not be sent.
---
Add an image to your message (Optional)
This can be a great way to make your text message marketing even more compelling. Note: Currently, messages with images are only available to send from US and Canadian SMS numbers (due to Twilio support).
Under "Add Image to your Message," click

Select Image

.

Choose the image you would like to include from your image library, or upload a new one.

Recipients whose phone numbers do not support images will receive a link to the image.

Click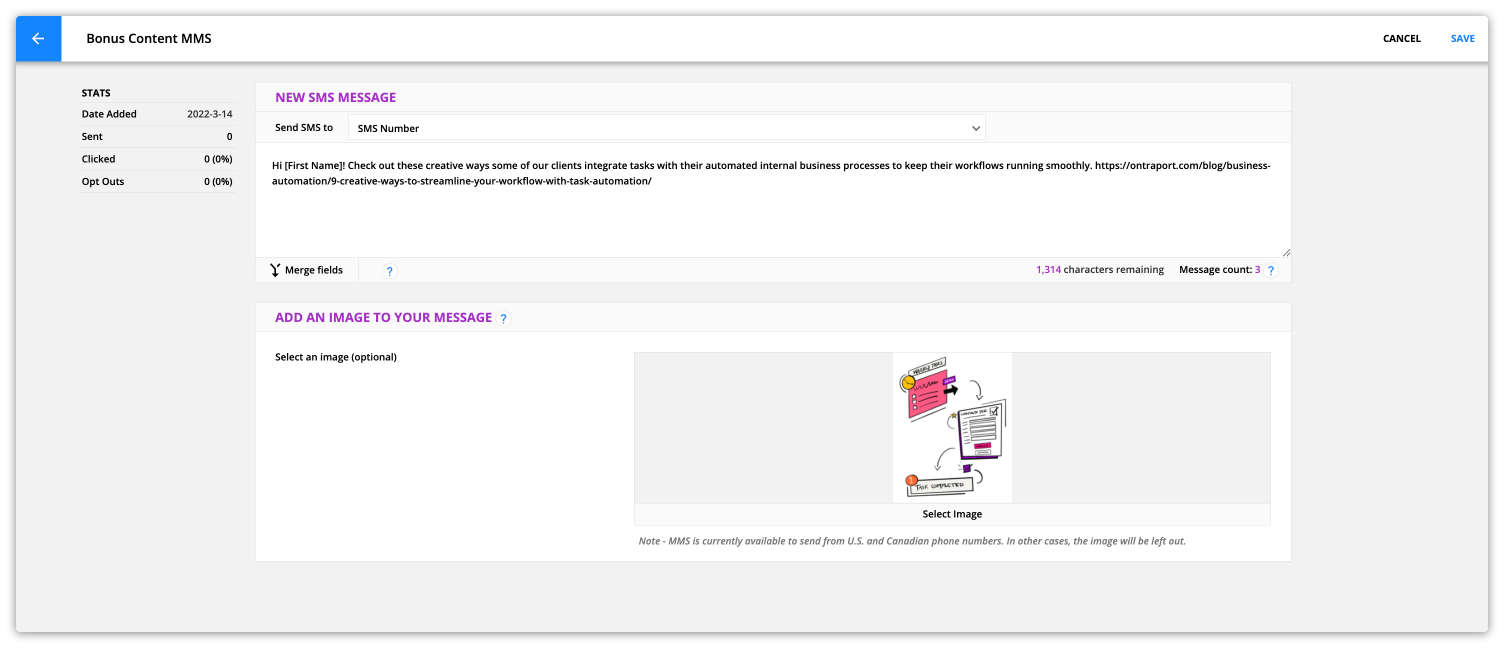 Note, if you want to include a link in your message, you'll need to add the URL you want to link to in your message. 
It is not possible to hyperlink in SMS messages, and URL shorteners will cause deliverability issues. 

US carrier policies forbid the use of free public URL shorteners, so your messages will be filtered if you include them. 
---
Adding SMS messages to your automation
You can automatically send the right message at the right time by using automation for your SMS messages. Just add the Send an SMS element to your automation maps.
Go to Automations and create a new automation map or edit an existing map.
If you're starting a new automation map from scratch, you'll add the SMS element wherever you choose on the map by clicking the What Happens Next? prompt.
If you're editing an existing automation map, click + between any elements where you want to add the SMS element.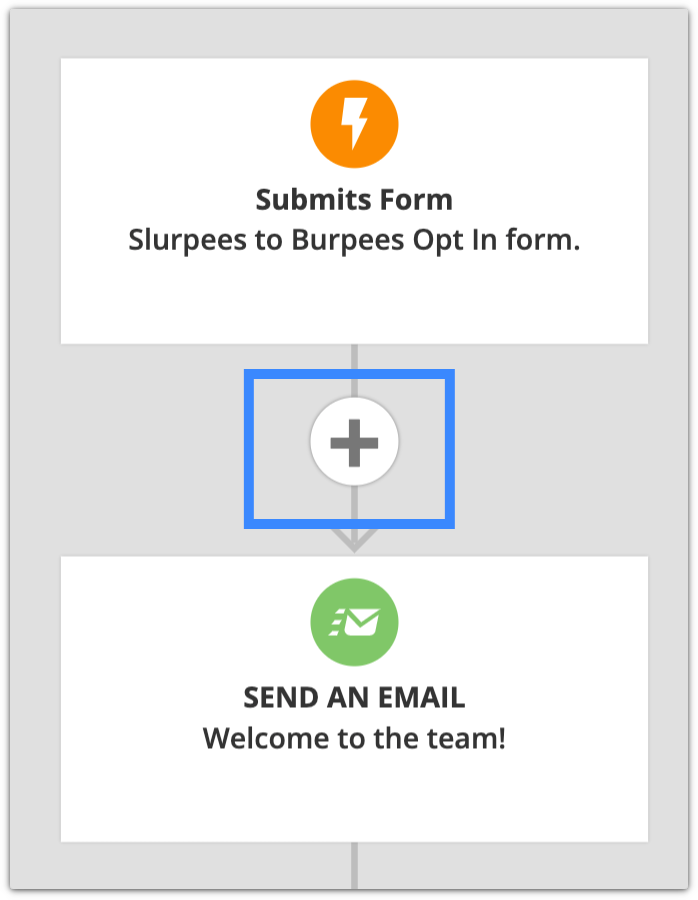 Under the Actions tab, click Send an SMS. Once the element is added, click into the SMS element and a settings sidebar will appear.
Under Send Contacts this SMS, choose an SMS text message from the dropdown menu that you would like to send, or create a new one.
Choose which number you would like the text to be sent from or add a new number. (This is the number your contacts will see when you send the text message.)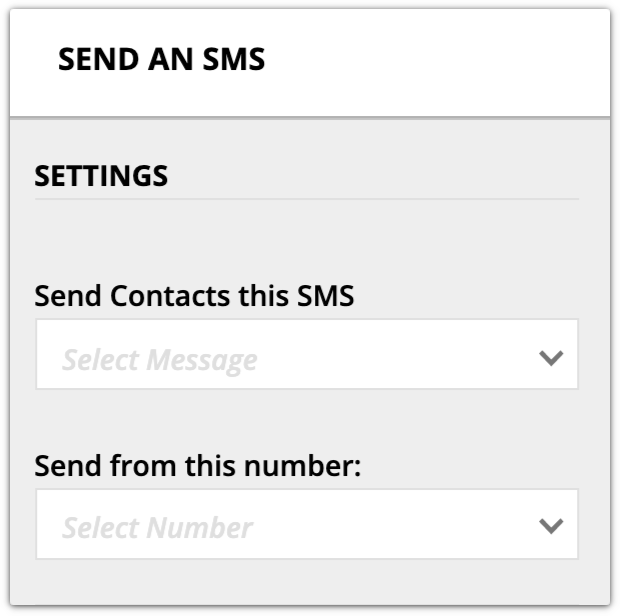 Note, contacts who have opted out of SMS messages will still appear on your SMS elements and click-through groups, but they won't receive your message.
---
Adding automated responses
You can set up automation that responds to the SMS messages your contacts send you based on the content of their message. For example, you can ask leads to text you "free ebook" to trigger automation that sends your lead a free ebook. To do this, you'll use an "SMS received" trigger or goal with "SMS contains" conditions. Here's how:
Create a new automation map, or edit an existing one.
Add a trigger if you want to create a new line of automation, or add a goal if you want to add on to existing automation.

Click  and select one of the "SMS contains" conditions.

The "SMS Contains Text" and "SMS Does Not Contain Text" conditions allow you to add the text you want, such as "free ebook."
These conditions are not case sensitive. However, it's a great idea to add multiple conditions. Then if your leads text you different versions of your keyword, your automation will still fire. See an example in the image below.

Click What Happens Next? below your trigger or goal, and continue building your automation.
To continue the free ebook example, you'll add an email that includes a link to download your ebook.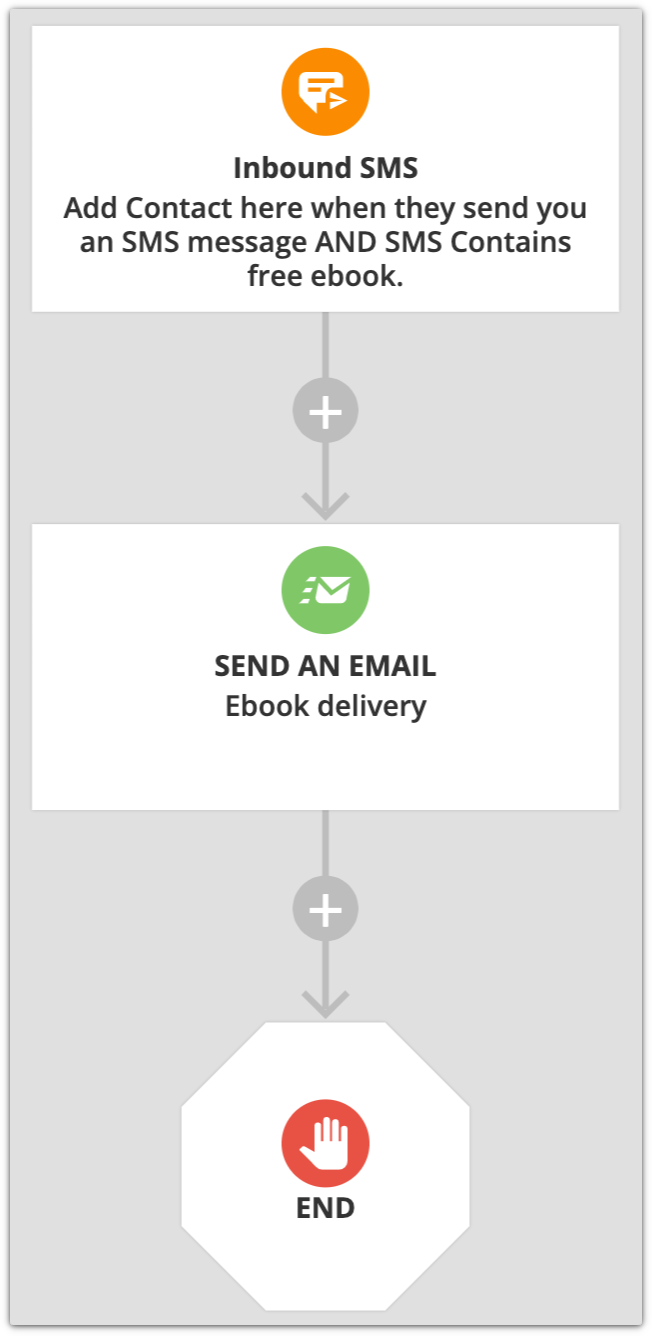 Note, you can also use the "SMS contains" condition on standalone condition elements. This option is great if you want to nest conditions to take different actions based on what your contacts send you.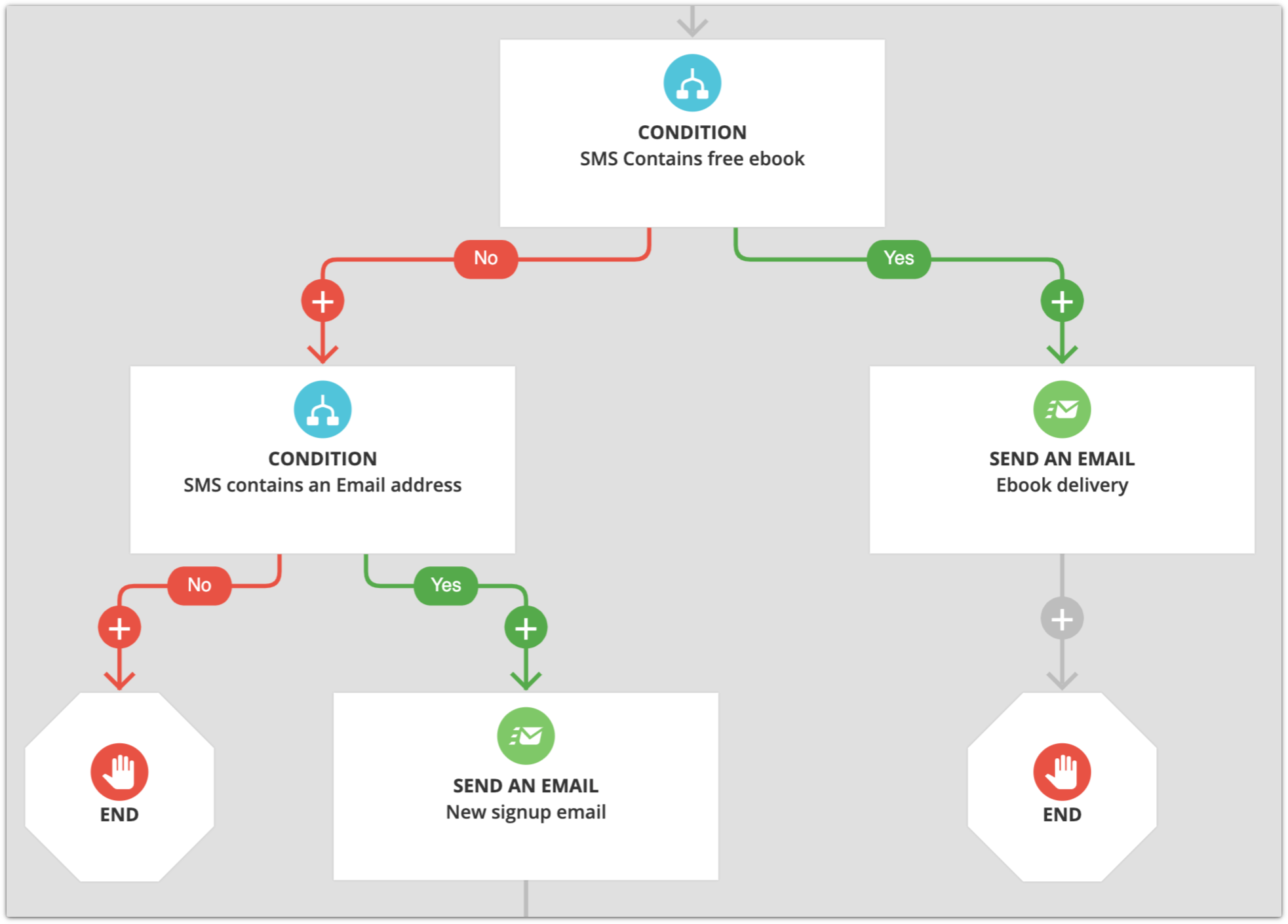 ---
Sending one-off SMS messages
You can also send one-off SMS messages manually to a single contact or to a group of contacts. SMS messages sent to a single contact are sent immediately, while broadcasts to a group of contacts are sent via the broadcast queue. SMS broadcasts can be viewed and managed in Broadcast History.
Go to Contacts and select the group of contacts that you'd like to send your SMS to.
Click .
Select the Quick SMS tab to create a new message or the Choose SMS tab to select an existing one.

Choose the number you want from the "From number" dropdown.
Click or click to schedule your SMS to send at a specific date and time.
Note, many phone carriers have strict spam filters that may be triggered when you send more than one of their subscribers a message at the same time — which can happen if you send broadcast messages to a group of contacts. If your message trips a filter, they will simply discard your message without any feedback, and they may block your sending number. It is safer to send SMS messages through an automation rather than a broadcast.
---
Viewing and Managing One-off SMS Messages
All messages that you send manually to two or more contacts can be viewed and managed in your account's Broadcast History. You can also view messages sent to a single contact if they were scheduled to send at a later time.
To get there go to
→ Broadcast History and, if you'd like to see only your SMS message, click
and select SMS or Quick SMS.

---
Stopping a one-off SMS message
If you choose to send an SMS immediately to two or more contacts, there will be a five-minute delay while it queues to send. This gives you time to cancel it if it was sent in error. You can also cancel SMS messages that you scheduled to send at a later time by following these steps:
Select the broadcast(s) you wish to cancel.
Click → .
---
Viewing broadcast stats
You can check the status of your manually sent SMS messages by hovering over the "sent" column and see the number of messages:
Scheduled
Sent
Failed
The "failed" status will also show you why the messages were unable to be delivered.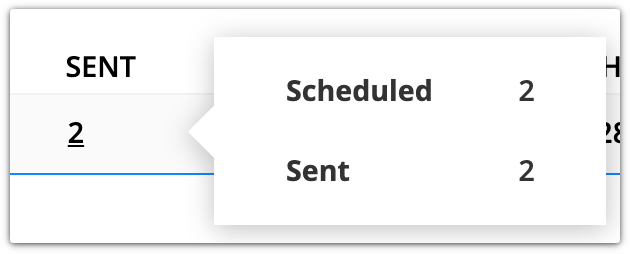 ---
SMS number pricing
Ontraport provides the first SMS number at no additional charge for all accounts. The price of additional SMS numbers and price per sent and received message depends on location. Visit our pricing reference page for more information.
highlight
highlight
highlight